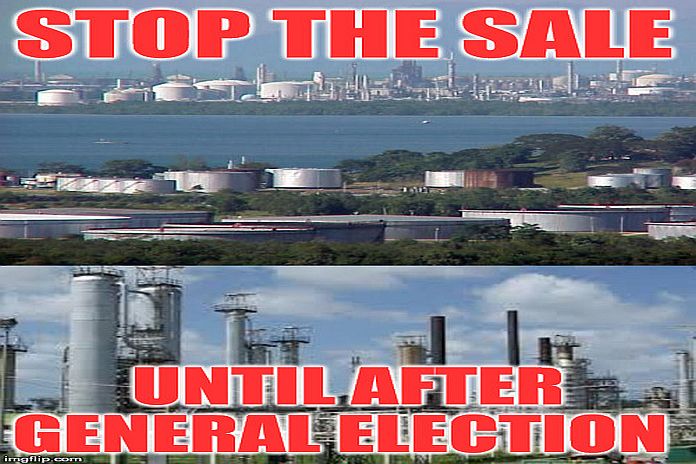 Dear Sir:
The government of Trinidad and Tobago must cease from the sale of all Petrotrin assets forthwith. It was rather appalling, almost " like a thief in the night" that while all national attention has been focused on combating the effects of COVID-19 in our nation, an advertisement requesting invitations to bid for an upscale property in Mount Irvine Tobago, belonging to the now-defunct state-owned Petrotrin was published in our daily newspapers.
Yet again the secretive, underhanded approach and blatant disrespect to the real owners of Petrotrin assets, our taxpayers, continue unabated by this government.
As a nation, we must ask, why have they chosen to sell off state assets at a time when all stakeholders, citizens, business groups, civil society, watchdogs and other bodies which usually monitor these issues have now united their energies with the national community on the fight against COVID -19?
Is this a case of trying to sneak and sell off assets cheaply to friends and family? Is this a case of building campaign finance for the upcoming election?
It is even more reprehensible that these sales will not be subjected to the full purview of the procurement regulator or benchmarked in line with the stipulations of the procurement act as this administration has failed to ensure its effective operationalization in the last four and a half years.
This is a slap in the face for accountability and reflects the consistent erosion for transparency under this government as while the national community exists in a vulnerable state, they are trying to capitalize.
If this government fully supported proper procurement they would have even presented to the Energy Committee of Parliament a list of assets belonging to Petrotrin which are to be sold and the proper methods to be undertaken.
In the absence of any form of accountability and the risk of cheaply losing state assets, the government must stop the sale of all Petrotrin Assets before the election.
David Lee 
Member of Parliament, Point-a-Pierre