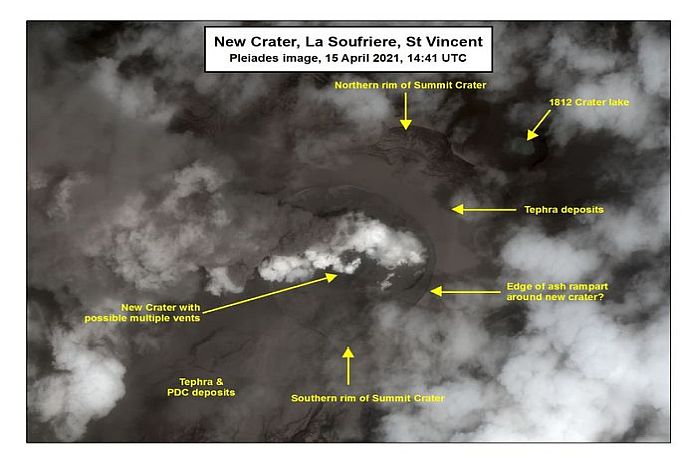 By Caribbean News Global contributor
KINGSTOWN, St Vincent — Multiple agencies, the private sector, governments, NGO's and individuals continue to assist in support of the humanitarian efforts in St Vincent and the Grenadines following the explosive eruptions of La Soufriere volcano that commenced on April 9, 2021; meanwhile, "the swarm of long-period and hybrid earthquakes continued at La Soufrière."
EU provides €740,000 in emergency funding to La Soufriere volcano's eruption
"SVG Port Authority is currently distributing water at the Barrouallie wharf. Truck drivers currently distributing water in the area are encouraged to come by and fill up." MAYREAU the smallest inhabited island in the Grenadines chain with just over 200 residents and they are doing their part in rendering assistance to persons who were displaced following the La Soufriere Volcano Disaster" NEMO St Vincent and the Grenadines reported.
The Grantley Adams International Airport resumed operations at 6:00 p.m., Friday, April 16, while the Port of Bridgetown is expected to restart on Monday, April 19.
Guyana Defence Force – Coast Guard, Lieutenant Andre Wang said the vessel Miss Meena arrived on the shores of St Vincent bearing her over 300-tonne cargo, after sailing for 64 hours.  The shipment included quantities of basic food items such as rice, sugar, salt, biscuits, onions, potatoes, vegetables and water. It also included sleeping cots and a quantity of personal protective equipment, based on guidance from St. Vincent's National Emergency Management Organisation.
A second shipment from Guyana is currently en route to the sister CARICOM nation, with a 20-foot container of water. The third shipment with other essentials will set sail from Guyana next week.
La Soufrière, St Vincent Scientific update 17/04/21 6:00 pm 
The swarm of long-period and hybrid earthquakes continued at La Soufrière.
The rate of occurrence of these earthquakes has remained near-constant since the last update. No episodes of tremor have been recorded in the last 12 hours.
The continuous GPS (Global Positioning System) network has shown a change in horizontal and vertical movement since the initial deflation observed after the April 9 explosive episode.
The continuous GPS (Global Positioning System) network is used to track changes in ground shape on and around the volcano.
These changes may suggest magma is being added from deep within the sub-volcanic system, however, more investigation is needed to confirm this interpretation.
The volcano continues to erupt although explosive activity appears to have ended at this time.
Its current pattern of seismic activity may indicate growth of a lava dome, but this has not yet been confirmed.
Explosions with accompanying ashfall, of similar or larger magnitude, could restart in the future impacting St. Vincent and neighbouring islands.
The volcano is at alert level Red.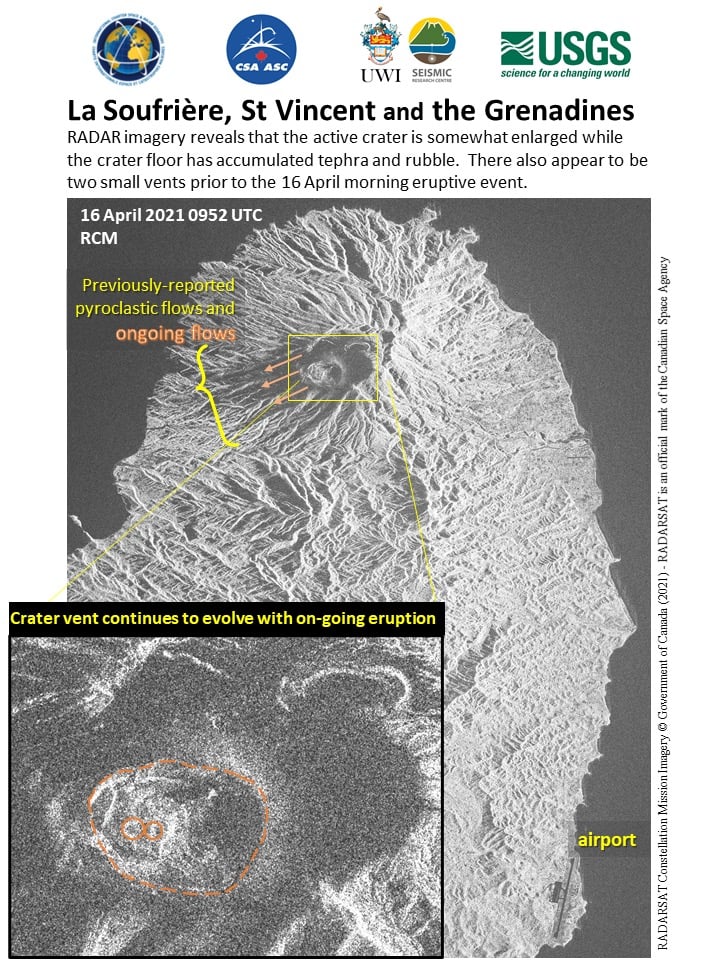 Visit for Global Ash Impact posters. These are the latest research-informed material for concise best practice information for critical infrastructure managers to effectively manage ash-producing volcanic eruptions.
Visit the International Volcanic Hazard Health Network for volcanic ash information and resources.