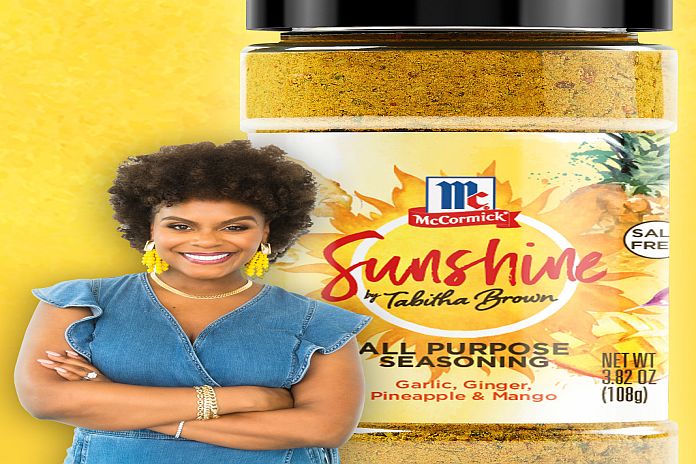 HUNT VALLEY, USA – While introducing millions to the versatility of vegan dishes through her highly engaging social media content, Tabitha Brown has realized a dream – the release of her very own seasoning blend, in partnership with the McCormick® Brand. McCormick Sunshine All Purpose Seasoning is a salt-free, Caribbean-influenced, bright, warm blend, inspired by Tabitha's joyful personality and recipes. It will be available for purchase, while supplies last, beginning July 8, exclusively on mccormick.com ($14.95/2-pack).
"Sunshine for me is about spreading positivity. I always say, 'Have a good day and if you can't, don't you dare go messing up nobody else's.' This seasoning is all about bringing that radiance and positive energy into your kitchen," said Tabitha Brown. "You can use the Sunshine All Purpose Seasoning on any dishes you have planned this summer, whether it's for heading out to a BBQ or cooking at home because that's your business."
In a video posted on her Instagram, Tabitha announced her partnership with McCormick and gave followers a first look at the brand-new seasoning, which she was hands-on in developing alongside the McCormick flavor scientists. Sunshine All Purpose Seasoning includes garlic, Tabitha's favorite, along with traditional Caribbean herbs and spices – ginger, thyme, turmeric, and allspice – plus mango and pineapple powders. Along with the new product, Tabitha will serve as a McCormick spokeswoman, incorporating the brand's portfolio of spices, herbs, seasonings, and condiments throughout her cooking content, while sharing recipes, tips, and tricks.
"We're thrilled to expand our relationship with Tabitha. She brought such comfort and encouragement to our McCormick Live Facebook series last year, helping to reassure many who were using their kitchens more than ever before," said Alia Kemet, vice president of Digital and Creative for McCormick.
"Tabitha's genuine and fun approach to cooking the way you want, while also educating her audience about plant-based alternatives, embodies our belief that whatever you make with McCormick spices, it's gonna be great."