FLORIDA, USA – In the wake of the surging COVID-19 cases reported in Florida, and following Taiwan's previous donation of 200,000 surgical face masks to the Sunshine State in April; Taiwan's official representation in Florida, the Taipei Economic and Cultural Office in Miami (TECO in Miami) donated an additional 220,000 face masks to the state government of Florida on Friday, July 24, 2020.
The goodwill continues to demonstrate Taiwan's devotion and partnership with Florida in confronting COVID-19. The donation of 220,000 medical masks was delivered from Taiwan directly to the Florida State Logistics Response Center in Orlando.
Taiwan donates 100,000 medical masks to the State of Florida
Florida Secretary of State Laurel M Lee received the token of goodwill from TECO in Miami on behalf of the State of Florida and indicated that the medical masks will be distributed to first responders and healthcare workers who are in urgent need. The Secretary of State further expressed her gratitude towards the generous donation by stating that Taiwan was Florida's valuable partner.
Director-General David Chien of TECO in Miami indicated that as Florida faces another wave of a furious attack from COVID-19, the donation of the face masks will provide first responders with the gears to protect themselves from the pandemic while executing their duty and helping those in need. The donation confirms Taiwan's support towards its sister State, Florida, which has been home to over hundreds of thousands of Taiwanese immigrants as well as being an important trading partner. Disease knows no borders. Taiwan's efforts to prevent and contain the pandemic have drawn international praise. Taiwan is also willing to stand on the frontlines to assist its sister state Florida in confronting the COVID-19 outbreak.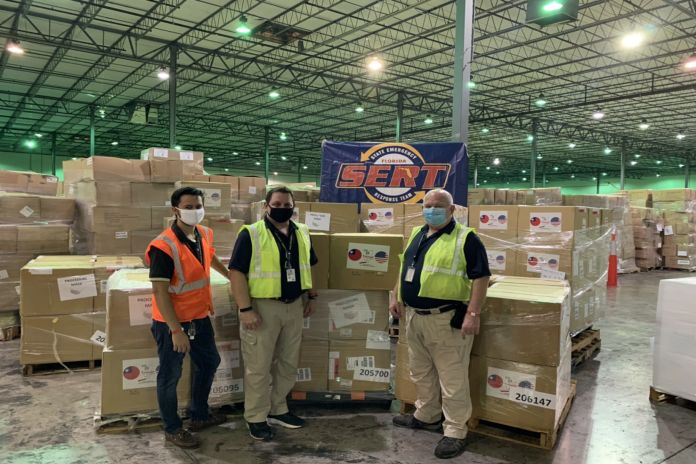 Taiwan believes that with international cooperation, will strengthen epidemic prevention, containment and together tackling the serious challenges posed by this pandemic – seeking global solutions and helping others as much as we help ourselves.
"Taiwan can help" is not just a slogan; Taiwan can make a real difference through concrete action.