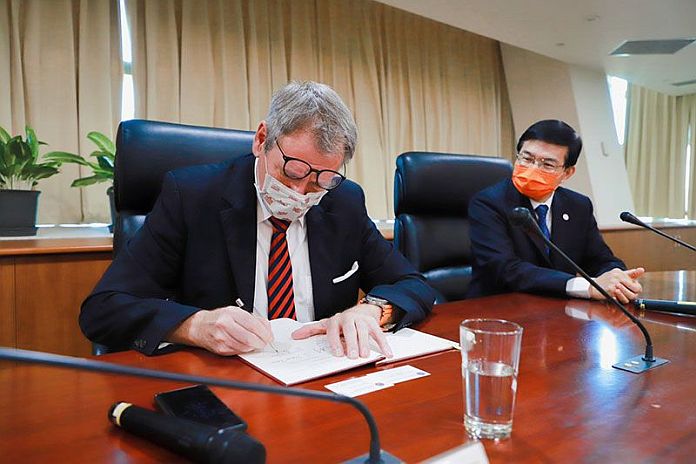 By Taiwan Today
TAIPEI, Taiwan — An air services agreement between Taiwan and Germany was signed virtually July 15, underscoring the two countries' commitment to enhancing people-to-people exchanges and strengthening trade ties, according to the ministry of foreign affairs.
Under the new pact concluded by Taiwan's representative to Germany Shieh Jhy-wey and German Institute Taipei Director General Thomas Prinz, the number of passenger flights between Taiwan and Germany is set to increase from seven to eleven per week, while cargo flights will increase from three to five, the MOFA said. It additionally grants both sides the Fifth Freedom of the Air, which will allow airlines to transit passengers or goods from their respective home countries to a third destination through the other nation, the ministry added.
In a statement, the ministry of transportation and communications said the agreement replaces one signed in 2001. It also includes articles on airfare, aviation safety and security, business opportunities, fair competition and operating permits, making it more comprehensive than its predecessor, the MOTC added.
Other high-profile participants at the ceremony included Taiwan's minister of transportation and communications Wang Kwo-tsai, who witnessed the signing.
Germany is Taiwan's leading trading partner in Europe. The two sides share a close relationship spanning a broad spectrum of areas such as trade, transportation and technology, and have concluded agreements on energy transformation, innovation in small and medium-sized enterprises, reciprocal driver's licenses, technology and transitional justice.