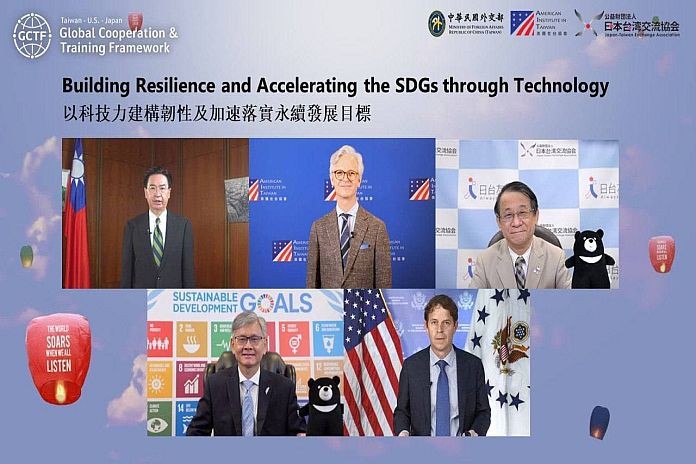 By Caribbean News Global

TAIWAN / USA / JAPAN – Taiwan, US and Japan jointly held the "Global Cooperation and Training Framework-Building Resilience and Accelerating the Implementation of Sustainable Development Goals" (vGCTF on Building Resilience and Accelerating the SDGs through Technology) during the UN General Assembly (UNGA76).
The seminar invited more than 80 officials, experts and scholars from 26 countries to participate online.
Speakers included Du Yijin, the founder of "Taiwan AI Labs", the United States Agency for International Development (USAID) development, Christopher Burns, Director of Science and Technology of the Bureau of Democracy and Innovation, and others. The moderator was Patrick Paul Walsh, Director of the Sustainable Development Research Center of the University of Dublin, Ireland.
The use of technology to achieve better recovery and sustainable development in the post-epidemic era highlights Taiwan's constructive partnership in assisting the global implementation of the United Nations' Sustainable Development Goals (SDGs).
This year, Taiwan shared the experience and results of the implementation of the UN SDGs through the "Global Cooperation and Training Framework" (GCTF) online workshop for the first time during the UN General Assembly.
Minister of foreign affairs Wu Zhaoxie, in his speech, pointed out that as the global fight against the epidemic continues, the United Nations calls on all parties to take collective action to end the epidemic and return to the path of implementing SDGs.
Taiwan is an indispensable member of the international community and is willing to contribute scientific and technological talents and cooperate with the world; towards a better post-epidemic recovery, as well as to realize the United Nations' 2030 Agenda for Sustainable Development and its various sustainable development goals. "Now is time for the United Nations to take action to resolve Taiwan's improper exclusion from the United Nations system," said minister Wu.
The participants affirmed the importance of responding to the global common challenges through technology and discussed how to strengthen international cooperation with fruitful results.
Deputy director Ke Jiemin said that as the "Silicon Island" of Asia, Taiwan is a key convergence point of the global semiconductor ecosystem and a cutting-edge pioneer in emerging technologies ranging from 5G-ORAN (Open Radio Access Network) to artificial intelligence. It has always been committed to using these technologies for public welfare.
Representative Chuan Yutai said that the global epidemic has highlighted the importance of implementing SDGs. The international community should adhere to the principle of "no missing anyone" and cooperate with each other. Japan appreciates Taiwan's continued contribution to the promotion of sustainable development and prosperity.
Deputy ambassador Pu Jiefu also emphasized that the United States welcomes and supports Taiwan's meaningful participation in the United Nations, its specialized agencies and related organizations.