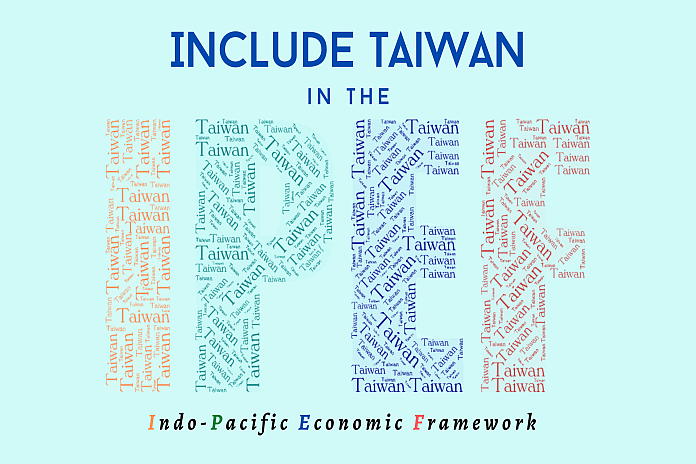 By Caribbean News Global

TORONTO, Canada – The utmost importance of Taiwan is indispensable to governance, policy and global trade and key standards, in the Indo-Pacific, Southeast Asia; and now, participation in the Indo-Pacific Economic Framework (IPEF) – embryonic importance in the broader global economy.
The Joe Biden administration last October announced the Indo-Pacific Economic Framework (IPEF) with partner nations to "define our shared objectives around trade facilitation, standards for the digital economy and technology, supply chain resiliency, decarbonization and clean energy, infrastructure, worker standards, and other areas of shared interest."
In November, Secretary Raimondo and USTR Tai, co-lead the initiative and held exploratory talks with Japan, Malaysia, Singapore, and South Korea during overseas visits.
US officials state that they do not envision the IPEF will take the form of a "traditional trade agreement." In early February, a USTR official said the initiative will include different modules covering "fair and resilient trade, supply chain resilience, infrastructure and decarbonization, and tax and anti-corruption."
The pathway of the IPEF is significant, either through executive action or a traditional trade deal ( the latter preferable, and not subject to discarded by other administrations) that will require congressional approval. Considering the Trans-Pacific Partnership (TPP) trade deal included the US and 11 countries in Asia, South America and the South Pacific. Similarly argued is the North American Free Trade Agreement (NAFTA).
William Alan Reinsch, a senior adviser and Scholl Chair in International Business at the Centre of Strategic & International Studies (CSIS), said in a January report the framework would help bolster the US presence in the region.
"The United States has deep and abiding interests in the Indo-Pacific region, which accounts for roughly half the world's population, economic output and trade, and where there is a fierce competition over whose economic rules and norms will prevail," he added. "The IPEF holds promise, but it will need to be well-engineered and managed if it is to advance US economic and strategic interests, become a credible alternative to other regional initiatives, and be seen by allies and partners as a durable US commitment to the region," said the CSIS report.
Conversely, with like-minded partners Japan, South Korea, Australia, New Zealand, Singapore – Taiwan shares US and Canadian criteria and leadership in trade and global development.
In the Indo-Pacific, Southeast Asia and the broader global economy, Taiwan is indispensable. And in conjunction, IPEF adds a much-needed economic dimension to broader the Indo-Pacific Strategy with advanced standards and Comprehensive and Progressive Agreement for Trans-Pacific Partnership (CPTPP), across a broader trade agenda.
Taiwan's governance, policy and key standards are correctly aligned toward a seamless resolution that encapsulates IPEF, CPTPP equation and the Indo-Pacific strategy.
To equate this, Taiwan continues to prove the many opportunities and world rankings to greater market access. This was accelerated under the COVID-19 pandemic – supply chain resiliency, and proven more attractive as prospective global trade agreements, health and economic resolve reguire more dynamic solutions.
"Taiwan deeply understands the importance of mutual assistance and strengthening resilience to creatively meet challenges, " […] advised, Director-General Amino C.Y. Chi, The Taipei Economic and Cultural Office in Miami.
The IPEF proposal seeks to offer many credible alternatives to attract greater access to the US market counterbalance. Taiwan offers a broader strategic foreign policy perspective, that is unique to the US and allies globally.
IPEF's four pillars comprise trade, digital, chain and infrastructure, tax and anti-corruption. In this framework, Taiwan already is a global leader, supported by regulatory efficiency to sustainability, policy and governance, digital transformation, market openness and workforce, and other tools for economic renewal and growth.
On 30 March, 200 members of the US House of Representatives signed a letter to the Biden administration calling for Taiwan's inclusion in IPEF.
The authors stated:
"As Taiwan is a major economy in the Indo-Pacific region, we strongly believe that Taiwan should be invited to participate in the IPEF. Taiwan has already expressed an interest in participating in the IPEF. The reasons in favor of Taiwan's participation are compelling. Taiwan has long been an important trading partner of the United States and was it's 8th largest in 2021 with $114 billion in total trade.
"It has served a critical role in diversifying the US supply chain, which has become increasingly dependent on the People's Republic of China (PRC).
"Since 2020, Taiwan and the United States have engaged in the US-Taiwan Economic Prosperity Partnership Dialogue, covering a broad range of economic issues including digital commerce, 5G networks, telecommunications security, supply chains, infrastructure cooperation, renewable energy, global health, and science and technology – many of the same issues to be addressed by the IPEF."
Addressing IPEF's four pillars; US strategic and economic success in the Indo-Pacific and Southeast Asia serves the mutual prosperity of all like-minded partners involved.
Taiwan is well-positioned as an independent nation and equipped with a futuristic readiness – innovation – to engage the free world.