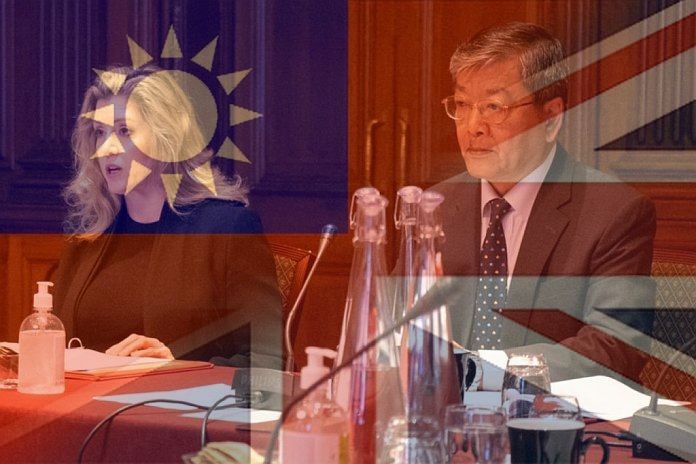 By Caribbean News Global

LONDON, England – The 24th annual UK-Taiwan Trade Talks progressed market access ambitions in a range of sectors including energy and offshore wind power, financial services, pharmaceuticals, agriculture and whisky on October 18, 2021, the Department for International Trade announced.
"The virtual talks were held as Taiwan sustained impressive economic growth this year following resolute handling of Covid-19. The UK-Taiwan trading relationship is set to grow, as highlighted by a new survey showing British business confidence in Taiwan is stronger than ever," the press release added. "The UK is working closely with all partners, including Taiwan, to inspire climate action. Bilateral collaboration has been stepped up on renewable energy, propelling offshore wind power for generations to come. The UK committed to sharing expertise on floating offshore wind and multi-use port development as well as skills and workforce planning for the renewable energy sector."
UK minister for trade policy Penny Mordaunt, said: "I was pleased to co-chair the 24th UK-Taiwan trade talks where we made further progress towards strengthening cooperation between our economies.
"Our trading relationship is strong, and there are growing opportunities for UK businesses. We held productive discussions on a number of trade and investment issues ranging from agriculture, offshore wind, pharmaceuticals and financial services and it's been great to see UK companies sharing our world-leading expertise in offshore wind to support Taiwan's energy transition."
The UK was the first major economy to pass legislation for net-zero emissions and has the biggest offshore wind capacity in the world. Newly increased market access enables UK businesses to share world-leading expertise and innovative technologies. Thirty UK offshore wind companies have set up operations in Taiwan, helping to bolster national ambitions to increase the proportion of renewable energy generation to 20 percent by 2025.
According to the government reports, the inaugural UK-Taiwan Hydrogen Forum on October 22 is to demonstrate the joint commitment to share energy technologies and drive innovation. The prime minister's trade envoy to Taiwan, Lord Faulkner, joins a series of virtual engagements demonstrating the full depth and breadth of the bilateral relationship this week.
Taiwan deputy minister of economic affairs, Chen Chern-Chyi, said: "The UK is an important economic and trading partner of Taiwan in Europe. It is pleasing to see that solid bilateral economic and trade relations have enabled both sides to continuously discuss issues regarding cooperation and resolve issues of mutual concern over the years. Indeed, much significant progress has been made. The UK and Taiwan must grasp every opportunity to elevate our economic partnership."
As Taiwan sets out its plans to become a bilingual society in Mandarin and English by 2030, the UK is a natural partner to advance English language education, teaching and assessment. Lord Faulkner will witness the signing of a Memorandum of Understanding between the British Council and the ministry of education to cultivate language proficiency and internationalisation of education.
"The 2021 Trade Talks deepened the UK and Taiwan's economic and commercial partnerships across a range of sectors. Taiwan retained its position as the fourth largest market for Scotch whisky by value, with a strong demand for single malt brands. UK-Taiwan bilateral trade reached £6 billion in 2021. Taiwan is the UK's eighth-largest trading partner in the Asia-Pacific region. UK exports to Taiwan rose 86 percent in the three years from 2016 to 2019.
"The UK was the number one European investor in Taiwan in 2020 with investment reaching £450 million covering a wide range of sectors, from financial services to pharmaceuticals, to ICT, to offshore wind (Investment Commission, MOEA)," said the UK  Department for International Trade, in a press release.