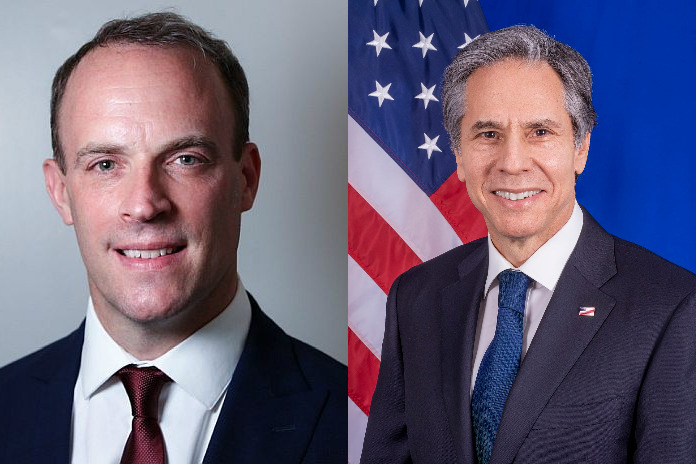 By Caribbean News Global

LONDON, England – Foreign Secretary Dominic Raab met US Secretary of State Antony Blinken ahead of the G7 Foreign and Development Ministerial Meeting. A Foreign, Commonwealth and Development Office spokesperson said, "… they held a discussion on foreign policy priorities and opportunities to strengthen the UK-US friendship. Discussions included UK-US shared commitment to open societies, a strengthened multilateral system, efforts to build back better from COVID-19, including through the COVAX facility and a UK-US FTA, and the need to stand together against the continuing malign and destabilising behaviour of Russia."
"The foreign secretary outlined UK priorities in the Indo-Pacific, including the need to hold China to account on Xinjiang and Hong Kong. They also discussed the latest developments in Afghanistan, Iran and Ethiopia."
In a joint press conference with US Secretary of State Blinken, May 3, 2021 – foreign secretary Raab, said, " It's fair to say the Biden administration is barely 100 days old, but has already taken a huge number of bold and very welcome steps on issues like climate change, global health and human rights, and that's really created momentum in efforts to tackle these pressing global issues."
"Secretary of State Blinken and I talked about our shared commitment to stand up for open societies, democracy and human rights – protecting fundamental freedoms, tackling disinformation, holding human rights abusers to account. A key element of this is defending the rule of law, so we are determined to reform but reinforce the multilateral system. We want to keep working together very closely on all of these points through the G7 and president Biden's Democracy Summit."
China
"It's fair to say that we see eye-to-eye on the need to stand up for our values, holding Beijing to the commitments that they have made, whether it's in relation to Hong Kong under the Joint Declaration or wider commitments, whilst also at the same time finding constructive ways to work with China in a sensible and positive manner where that's possible."
Climate change
"We want to see China stepping up to the plate and playing its full role. And I also discussed a whole range of security issues – Iran, Afghanistan, continuing concerns about Russia, in particular on the border with Ukraine. We stand shoulder to shoulder on these issues – and I welcome the US' firm recommitment to the NATO alliance."
Secretary Raab and Secretary Blinken are expected to see prime minister Boris Johnson, Tuesday, May 4. " One of the major areas of common interest is building a broader and stronger set of partnerships among countries that share our values, on the most important issues of the day. G7 Foreign and Development Ministers' meeting … is a great opportunity to really drive that agenda forward."
G7 Foreign Ministers
The statement added: "This is the first opportunity for all G7 Foreign Ministers to meet together in person since 2019. We're glad to be able to socialise a bit together and conduct those meetings face-to-face rather than doing it all just on Zoom and Teams. It's also fair to say that the world has changed quite a bit in those two short years. Our societies and our economies have been shocked and shaken by coronavirus. At the same time we are responding to a situation where our values are being challenged and the international architecture is at least in some respects being weakened.
"There's also rapid technological change which brings new opportunities, we've seen that with collaboration on things like the vaccine, but also acute challenges, and there are global threats from covid to climate change that frankly demand global solutions and we're committed to trying to find and forge those solutions. In that context, we recognise the importance of building dynamic, agile new partnerships with like-minded countries which share our values.
"That's why we invited the foreign ministers from India, South Korea, Australia and Brunei, Brunei also representing ASEAN as the chair, and they'll be taking part later on in the week. They are all key partners for us, I think they are also a sign of the growing focus on the Indo-Pacific region as the economic and strategic crucible for this century," the Foreign, Commonwealth and Development Office, said.