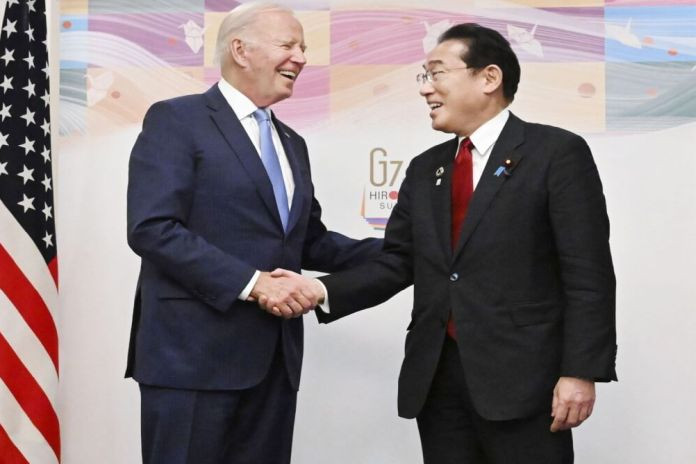 By Stacy Hsu and Kay Liu
TOKYO, Japan, (CNA) – United States president Joe Biden and Japanese prime minister Kishida Fumio reiterated their "resolve to maintain peace and stability across the Taiwan Strait" after the two leaders met in Hiroshima, Japan on Thursday ahead of the start of the G7 Summit.
The US president and the Japanese prime minister "committed to work closely together to address regional security challenges," with Biden calling the US-Japan Alliance "the cornerstone of regional peace and prosperity," according to a readout of the meeting released by the White House that day.
The regional challenges both leaders seek to address together include "the Democratic People's Republic of Korea's (DPRK) nuclear and ballistic missile programs and coercive behavior by the People's Republic of China that runs counter to international law," according to the readout.
The two leaders also "underscored their opposition to any attempts to change the status quo by force, and reiterated their resolve to maintain peace and stability across the Taiwan Strait," according to the readout of the meeting held ahead of the Group of Seven (G7) nations' three-day gathering that starts Friday.
In addition, they reaffirmed in the readout their support for "ASEAN centrality," and emphasized the importance of increasing multilateral cooperation in the Indo-Pacific region.
The US and Japan will also continue supporting Ukraine "as it defends itself from Russia's brutal and unlawful invasion," the two leaders were cited as saying in the readout.
Apart from regional security issues, Biden and Kishida also addressed efforts to bolster economic cooperation, including through negotiations on the Indo-Pacific Economic Framework (IPEF), the promotion of clean and secure energy, and the establishment of diverse and resilient critical minerals supply chains, according to the readout.