By Caribbean News Global

TORONTO, Canada – Multiple measures towards US – Taiwan policy in the first 100 days of president Joe Biden's administration, coupled with the intensity of diplomatic exchanges in the regional and international sphere, signals a fundamental advancement on the next frontier to global leadership.
US new guidelines, announced on April 9, "underscores Taiwan is a vibrant democracy, an important security and economic partner that is also a force for good in the international community. These new guidelines liberalize guidance on contacts with Taiwan, consistent with our unofficial relations, and provide clarity throughout the executive branch on effective implementation of our "one China" policy, which is guided by the Taiwan Relations Act, the three Joint Communiques, and the six assurances".
Democratic norms and values are fundamental cornerstones to the expansion of global leadership.
On Thursday, May 13, attending a virtual seminar hosted by Georgetown University titled the 'First 100 Days of US-China Relations under president Biden', US National Security Council's senior director for China, Laura Rosenberger, said: "The US is greatly concerned about China's increasingly provocative actions against Taiwan and reiterated that Washington's unofficial interactions with Taipei are in accordance with its 'one-China' policy."
Notable, the new guidelines announced on April 9, are based on the Taiwan Relations Act and Taiwan Assurance Act, reflect the current state of US – Taiwan relations. It is also, important to note the affirmation of global leadership on US – Taiwan bilateral ties, democracy, human rights and the rule of law – are beneficial for the two nations, their allies and affiliates.
Recently, several organisations liked-minded with US – Taiwan bilateral ties including the launch of the Formosa Club Indo-Pacific, on May 7; Taiwan NextGen Foundation chief executive officer Chen Kuan-ting, calling to action on what 'Taiwan stands for …' and the launch of The Formosa Club in the Caribbean of approximately 100 members of parliament from five nations that support Taiwan's participation in the World Health Organization (WHO) and the United Nation (UN) is instructive to regional and international affairs.
The launch of the Formosa Club Indo-Pacific ( Africa, Europe, Latin America, West Asia, and the Indo-Pacific) May 7, via videoconference involving foreign minister Jaushieh Joseph Wu, deputy foreign minister Tien Chung-kwang and a selection of the 250 lawmakers from 17 countries and territories, is a strong foundation as stated by Wu: "The interparliamentary organization is built on the values of freedom, democracy and human rights shared between Taiwan and its members."
And considering other high-profile participants in the launch included parliamentarians Shri Sujeet Kumar of India; Pinto Katia, Kiribati; Wong Shuqi, Malaysia; minister of foreign affairs and trade Casten Nemra, Marshall Islands; Golriz Ghahraman, James McDowall and Simon O'Connor, New Zealand; Mason Whipps, Palau; and speaker of parliament Samuelu Penitala Teo, Tuvalu.
It is assemblies like these, "the forces for goodwill work with #Taiwan in promoting regional peace, freedom, democracy, prosperity and sustainable development," and according to the Ministry of Foreign Affairs (MOFA): "The Formosa Club Indo-Pacific complements chapters successfully opened in Africa, Europe, Latin America and West Asia, is expected to play a key role in growing Taiwan's footprint in the region while jointly promoting peace, freedom, democracy, prosperity and sustainable development."
However, for such values to grow, 'Health For All' must be realized, more aggressively as COVID-19 shows no respect for borders and keeps spreading rapidly around the world.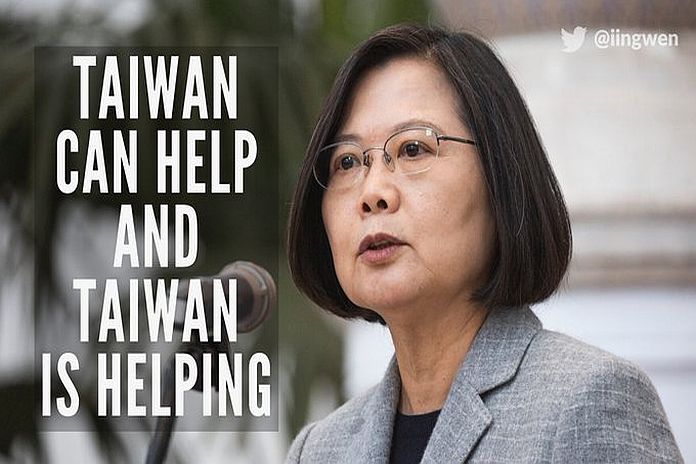 Taiwan can help and Taiwan is helping to distribute its health care resources and expertise to the rest of the world. The inclusion of Taiwan in The World Health Assembly (WHA) for the 74th annual World Health Assembly (WHA), beginning on May 24, 2021, requires restoring Taiwans' appropriate place at WHA.
Taiwan NextGen Foundation chief executive officer, Chen Kuan-ting, considers that Taiwan must show the world it is a regional beacon of democratic values, stated, "now is the time for the nation to lead the region on different issues including democracy, human rights, rule of law," Chen adds, "values are perfect examples of soft power and the most easily identifiable markers that distinguish Taiwan from China."
The launch of Formosa Club in the Caribbean, May 15, "to call on parliamentarians who recognize the values of freedom, democracy, and human rights, to provide mutual assistance", according to MOFA.
This can be view as a powerful demonstration of strategic global leadership. The reason being, that MOFA, has single-handedly established a base, a transnational platform for dialogue and cooperation of liked-minded countries, regions and parliamentarians, that intertwines with the updated guidelines with Washington's interests, that benefit bilateral ties.
In the furtherance of 'a platform for friends of Taiwan to discuss further strengthening of ties' as identified by MOFA, includes the 15 states that recognise Taiwan; Belize, Guatemala, Haiti, Holy See, Honduras, Marshall Islands, Nauru, Nicaragua, Palau, Paraguay, Saint Lucia, St Kitts and Nevis, St Vincent and the Grenadines, Swaziland and Tuvalu.
The American Institute in Taiwan (AIT) serves as a liaison with its counterpart organization, the Taipei Economic and Cultural Representative Office (TECRO) as well as with US government agencies.
While US and Taiwan relations continue to highlight shared values, dispatching delegations in support of democracy, they also share common interests, multilateral response and meaningful power globally.