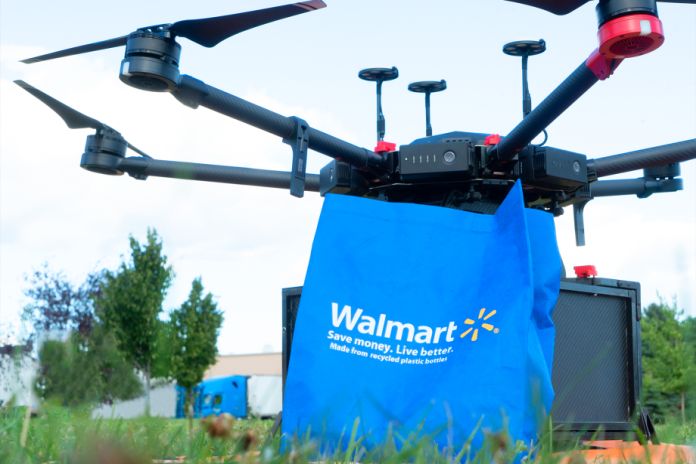 By PYMNTS
High-flying Walmart is set to launch a pilot project that will have the retailer's goods delivered by drones.
Walmart said in a press release that the test program will be ready for takeoff on Wednesday, September 9, in Fayetteville, North Carolina with the aid of Flytrex, which delivers goods with drones. The deliveries will carry "select grocery and household essential items from Walmart stores using Flytrex's automated drones," the release notes.
The company said the drones will help it to "gain valuable insight into the customer and associate experience, from picking and packing to takeoff and delivery." Walmart acknowledged that "it will be some time before we see millions of packages delivered via drone. That still feels like a bit of science fiction."
Nonetheless, the release said, "we're at a point where we're learning more and more about the technology that is available and how we can use it." The company added that pilot projects will provide the knowledge needed to "help shape the potential of drone delivery on a larger scale."
For its part, Flytrex is a pioneer in the field of drones, which seems poised for takeoff. Flytrex Co-founder and CEO Yariv Bash spoke recently with PYMNTS about the future of drones, as a Federal Aviation Administration (FAA) framework and pilot programs have started to yield results.
The company started making deliveries by drone in Reykjavik, Iceland in 2017. "Less than a year after, we realized that home delivery is going to be the killer application for drones," said Bash. "We were already certified to fly above Reykjavik … beyond visual line of sight…which [is] still unheard of in most of the rest of the world. Then the FAA started … a pilot program for advancing the framework of commercial drones. They heard about our prior experience in flying real commercial missions, so we got accepted."
Other FAA pilot program participants include the likes of Amazon, Uber and UPS.