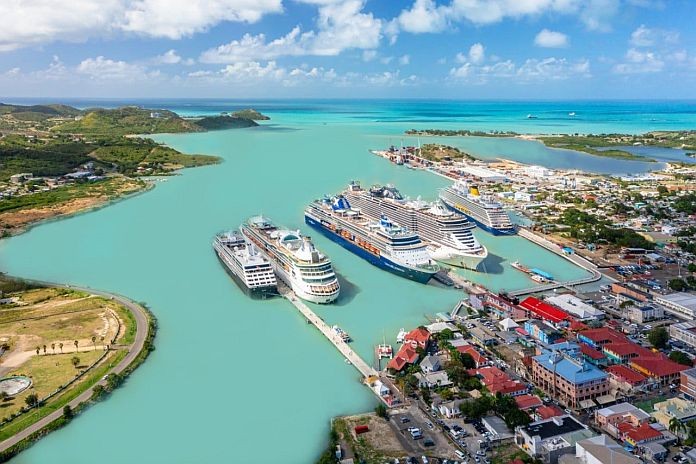 By Caribbean News Global contributor
ST JOHN'S, Antigua – While "Setting the Stage for Economic Rejuvenation" on Thursday, February 3rd, 2022, prime minister and minister for finance, corporate governance and public-private partnerships, Gaston Browne, described "the development plans for 2022 – a year in which the ECCB projects that our economy will grow by 4.7 percent," tabled his " own expectation is that we, the people of Antigua and Barbuda, will do better, acting together and that we will achieve at least 8 percent growth."
Prime minister Browne laid his ethos for economic rejuvenation, summarised from the 2022 budget as follows:
Tourism
Tourism remains the anchor of our economy and will continue to drive economic recovery this year. A further rebound in tourist arrivals is anticipated as arrivals should reach at least 75 percent of 2019 levels.
It is expected that tourism growth in Antigua and Barbuda should exceed 20 percent in 2022 and average in excess of 6 percent over the medium term – our partnership with Global Ports promises to yield increased benefits in 2022. […]
A homeporting incentive package has been developed by the management of GPH (Antigua) Ltd., which has been well received by Cruise Lines, whereby five lines have indicated a strong interest in using Antigua as a homeport by 2023.
The yachting industry is an important part of our tourism product, and it is expected that Antigua Sailing Week, a long-standing event on the country's calendar, will return in April 2022. A total of 67 yachts have already registered for this event. Also, the Royal Ocean Racing Club, with a sponsorship contract for the next four years, will be returning to the destination this year.
Private sector projects
[…] Though several major projects that were slated for implementation in 2021 were delayed due to the ongoing pandemic, there was notable activity that contributed to estimated real growth of 12 percent in construction in 2021 compared to a contraction of 26 percent in 2020.
The US$120 million spent on the PLH Ocean Club on Barbuda in 2021 along with the completion of the Elite Island Resorts all-inclusive luxury property at Devil's Bridge helped to spur growth in construction.
Additionally, work continued on the US$70 million Baron Lorne Thyssen mansion at Laurie Bay and development of luxury properties progressed at several sites, including Jumby Bay, Windward Beach, Pearns Point, Galley Bay Heights, and Mill Reef Club.
The amount spent on these properties in 2021 was well over US$50 million. It is expected that, at least, a further US$80 million should be spent in 2022. In addition to these major construction projects, there was a marked increase in residential construction.
Data from the Development Control Authority indicate a 15 percent increase in approvals for residential construction in 2021 compared to 2020. The value of these properties was an estimated $530 million. Further, the Antigua and Barbuda Investment Authority (ABIA) approved 118 applications under the Construct Antigua Barbuda Initiative (CAB-I).
This programme provides concessions to first-time homeowners to reduce the cost of home construction. The aggregate value of the homes that benefited from the CAB-I in 2021 is $33.9 million.
The ABIA also approved concessions for 13 commercial projects with an aggregate value of $46.7 million. These projects represented investments in several sectors, including tourism, restaurants, property development, and retail.
In 2022, several projects will contribute to further expansion in the construction sector thereby creating significant employment for our people.
The list of projects include:
A further US$150 million to be spent on the PLH Ocean Club project on Barbuda. This US$2.5 billion project is the single largest private sector investment project in the Caribbean. It currently employs 500 full time employees and this is expected to increase to 800 full time jobs in 2022.  This development boasts luxury homes, an 18-hole golf course, high-end restaurants and other amenities. PLH Ocean Club caters to industry captains and high net worth individuals from North America and Europe seeking private, luxurious accommodations in beautiful and pristine locales.
Investment of up to US$40 million at Mill Reef Club on new properties, to include a five-star restaurant on Green Island.
The US$80 million renovation and expansion project at the existing Rex Halcyon Hotel by Sunwing, which will start in the first quarter of 2022.
The US$40 million Dulcina Project on Barbuda will also commence in 2022. Negotiations are underway with an international property management company that has experience and expertise with the development and management of high-end properties.
The US$100 million Royal Caribbean Cruise Lines Royal Beach Club project at Fort James will also start in late 2022.
This partnership agreement was consummated in February 2020 just before the onset of the global pandemic. However, the government and Royal Caribbean Cruise Lines remain committed to this project and, as travel and tourism prospects are improving, we are determined to begin work later this year. In addition to these development properties, it is expected that investments in landside cruise infrastructure will accelerate in 2022.
Antigua Cruise Ports will invest $35 million to create the Antigua Port Day Club, an ultramodern waterfront playground, featuring several pools, a state-of-the-art casino, local food-and-beverage outlets, and approximately 70 to 100 retail spaces for local entrepreneurs. The day club project will include the implementation of solar panels to supplement power to the area. Construction of the day club will begin in July 2022 and is scheduled to be completed by July 2023.
This exciting new attraction will be accessible to cruise passengers, other visitors, and locals and residents of all ages. The redevelopment will also include upgrades to the Heritage Quay Shopping Centre, which is currently ongoing. Local companies have already been engaged to work with GPH (Antigua) Ltd. to make the cruise port a much more attractive representation of Antigua and Barbuda.
Special economic zones
Other private sector investments in 2022 will include expenditure of an additional US$50 million on the YIDA project and building out the special economic zone (SEZ) at Seaforth. The investor in this special economic zone development proposes investments in tourism, banking, light manufacturing, medicinal cannabis, and medical schools.  On the basis that it is successful, it will create significant employment opportunities in 2022 and over the medium term.
A special economic zone is another tool used by countries, whether developed or developing, to promote economic diversification and attract and encourage investment.
A good example of how an SEZ can impact the domestic economy is the offshore education institutions such as AUA, which has impacted retail and wholesale trade, property rentals, restaurants, transportation, telecommunications and other segments of the domestic economy.
In addition to the impact on employment, special economic zones can also lead to increased exports, foreign exchange earnings, and technology transfer. Having established the legislative arrangements to support the development of special economic zones, the government has granted licences and concession to two investors who have met the requirements of the law.
We have not sought to pick winners, but to provide the environment that would encourage investments to benefit the economy and people of Antigua and Barbuda. The US$200 million that has already been invested by YIDA has no doubt been a benefit to our country. We, therefore, look forward to further injection of capital in these special economic zones, so that the direct and indirect benefits of these initiatives may be realized.
Other private sector projects that will be undertaken in 2022 include the Hadeed Group marina development project in the vicinity of the McKinnon's Pond and continuation of construction on the Doctors Hospital and Medical Centre, a project spearheaded by Dr Joseph John.
Manufacturing
In 2021, this industry contributed about $54 million to GDP. Though this is not as significant a contribution as other sectors, manufacturing is a very important industry in which new local businesses can develop and which can engage in import substitution, saving the country foreign exchange and providing employment.
The government will continue to encourage entrepreneurship in this area through the provision of tax incentives and development land at a concessional rate of $3 per square foot.
Agriculture and Fisheries
The agriculture sector grew by approximately 2 percent in 2021 and contributed about $24 million to GDP. Fisheries also grew by 2 percent and contributed about $32 million to GDP. 
As indicated last year, our objective is to increase the contribution of agriculture and fisheries over the next ten years from the current $56 million to $250 million. This is an important commitment, as it will have the three-fold effect of reducing our food import bill, improving nutrition for our people, and ameliorating our vulnerability to external shocks to our food supply.
To this end, the government has engaged the Caribbean Development Bank to provide assistance in increasing capacity in livestock and crop production and to exploit export potential in fisheries.
Another important development in this sector is the creation of an insurance instrument in partnership with the Department of the Environment, to provide coverage for fisherfolk in the event of loss or damage to their vessels as a result of natural disaster.
This will help ensure that this important source of household income is not completely lost due to climate events. Of course, we will continue to extend concessions on agriculture inputs, including fertilizers, machinery, fishing vessels, engines and equipment.
Also, through ongoing partnerships with the FAO, IICA, the Peoples Republic of China, and Japan, technical support and training in modern agriculture technologies will continue to be delivered to farmers and fisherfolk. All this, are lessons learnt from the pandemic crisis.
Entrepreneurial development programme
July 2019, our government launched the Entrepreneurial Development Programme (EDP). Its purpose was to support the growth and development of small and medium-sized businesses across many industries. The EDP has provided approximately $4 million to 33 locally owned businesses. Loans range in value from $10,300 to $180,000 at a maximum interest rate of 3 percent.
In 2021, this programme provided more in funding than in the two previous years, and has stimulated creativity, innovation and entrepreneurship in five key sectors. These are tourism, fishing, agriculture, construction, and retail and other services.
The EDP aims to create an entrepreneurial class in our country. It is a boon for persons who, traditiGonally, had little chance to establish their own business. Our government intends to maintain it, empowering our people to own, manage and succeed.
In 2022, the EDP will partner with the Caribbean Union Bank and the Eastern Caribbean Partial Credit Guarantee Corporation to increase funding and access to support for micro, small and medium enterprises in Antigua and Barbuda.
This, said prime minister Browne " is part of our commitment to build an ownership class and to give opportunity and means to persons who have, for too long, been denied a place in the economic sun. They are entitled to a leg-up and my administration will give it to them."