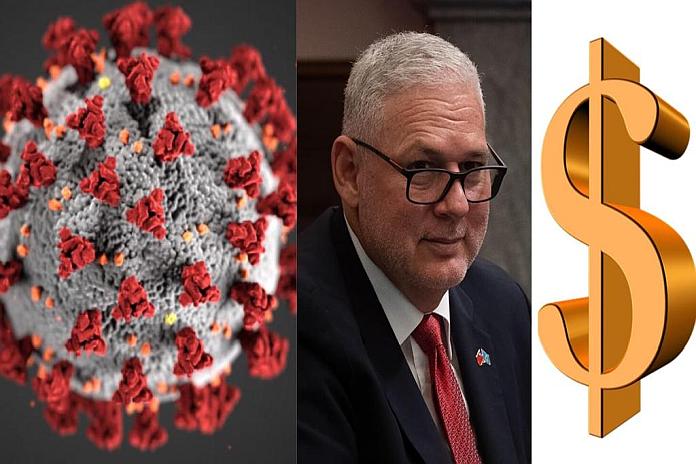 By Caribbean News Global

TORONTO, Canada – The concern of public sector wages in comparison to Gross Domestic Product (GDP), current account expenditure, and measures to finance coronavirus response amounts to an outward illusion of 'now you see it – now you don't' and 'ration cash.'
The phraseology 'ration cash' as a means to control the distribution of scarce resources, goods, services, or control the size of the ration, at this particular time, takes the form to create fiscal space in the budget by reducing 'non-priority expenditure and increase the efficiency of spending'.
This is further infused with a 50/50 cash and government bond proposal (will create a significant shock to natural countercyclical measures) commencing April 2020, for three months to public servants, using the cover of a State of Emergency, although likely to ensue legal proceedings on many counts of contract law, insider trading and breach of contract.
A government bond is a type of debt-based investment, where you loan money to a government in return for an agreed rate of interest. Governments use them to raise funds that can be spent on new projects or infrastructure, and investors can use them to get a set return paid at regular intervals.
In one instance the prime minister and minister for finance of Saint Lucia is attributed to declaring, "The country is on lockdown. All the civil servants need to purchase is food." They do not need their entire salaries."
Besides this elitist remark and considering COVID-19 daily advice to wash hands with soap and water, the prime minister says, "People go without water for a couple of days now and it's like the end of the world."
Is this a good idea? Or is it the practice of social distancing from the truth, a sacrifice for the public good?
In both instances, the prime minister and minister for finance rationale are perversely counterintuitive to repurpose his explanations of public sector policy. However, this explains the need for the prime minister to address the Nation Sunday at 7:00 pm, "on the prospects for the economy amidst the COVID-19 pandemic," ahead of Tuesday, April 28, 2020, when he is expected to present the estimates of revenue and expenditure for 2020/2021.
Contrary to the disingenuous parameters to broadcast that Saint Lucia's Cabinet agrees to 75 percent salary cut in face of economic crisis, which in no way is sufficient for address a serious economic recovery plan amid COVID-19, many await a proficient social relief and economic support package that stands at the centre of the 2020/21 estimates of revenue and expenditure.
The composition of which is an economic recovery strategy to stimulate demand and supply through interventions such as a substantial infrastructure build programme, the speedy implementation of economic reforms, reforms to unemployment insurance, and the National Insurance Fund (NIC) and funding from local, global partners and international financial institutions.
The duration of the COVID-19 will dictate accommodative monetary policy (ECCB/ECCU) to stabilize economic growth in the fields of finance, consumer goods, manufacturing, and technology.
Prime minister of Antigua Gaston Browne in a demarche on International Monetary Fund (IMF) and the World Bank requested consideration by G20 countries, "proposals be included for small and vulnerable economies, including (a) suspension of per capita income as a criteria for concessional financing; (b) debt relief including suspension of debt payments, write-offs of aged debt particularly by the Paris Club; (c) budgetary support through a mix of grants and low-cost loans on a country by country basis."
Managing Director of the IMF, Kristalina Georgieva, said, "The outlook is dire. We expect global economic activity to decline on a scale we have not seen since the Great Depression." A global crisis like no other needs a global response like no other.
President of the African Development Bank, Akinwumi Adesina said: Around the world, countries at more advanced stages in the outbreak are announcing liquidity relief, debt restructuring, forbearance on loan repayments, relaxation of standard regulations and initiatives.
Sizing up the impact, Sir Ronald Sanders, said: Prepare for a long haul: The storm is not fully formed, "COVID-19 is destroying the prosperity that several Caribbean countries anticipated at the beginning of 2020."
Tourism dependent economies and island states like Saint Lucia has certainly witnessed the – 'Now you see it – Now you don't' and the need to 'ration cash'.
The economic impact of the coronavirus is significant and in various phases, the expectation is to realize the economic loss and consequent budget revenue, and out of control spending.
A prolonged State of Emergency with COVID-19 even after partial opening May – June 2020, and the recovery process; given the prime minister and minister for finance rationale from Chin-chin – Empowerment card – Ration cash – is a perfect storm heading into the hurricane (COVID-19) season, 'a state of bankruptcy' represents perhaps the only way out.