By Caribbean News Global contributor
CASTRIES, St Lucia – Ezechiel Joseph, minister for agriculture, fisheries, natural resources and co-operatives attempting to explain to government sympathizers and media-friendly networks why his ministry decided against making available $1,500 to farmers in cash and instead to give them agricultural products in kind, was because 'as you know, they have a problem handling money.'
The minister's comment, "translated and interpreted in both English and Kweyol, suggests local farmers cannot be trusted with their own money or with funds allocated for them and had to be protected against themselves by being given fertilizers and inputs instead," the Saint Lucia Labour Party (SLP) said in a press release.

Former agriculture minister Moses 'Musa' Jn Baptiste has subsequently condemned minister Joseph for saying in a recent interview that local farmers 'can't handle money', and said " the statement is 'an insult' to local farmers and noted that no other Cabinet colleague has asked the minister to withdraw that statement."
Jn Baptiste advised that an SLP administration will better organize agriculture than anything the current government has done after failing to deliver on its bright promises of reviving the banana market.
"Local farmers who were encouraged to produce more bananas have been failed and the island is now struggling to export 5,000 boxes of bananas per week when it exported over 14,000 boxes per week up to 2016. Fisheries have been run aground by the current government's policies forcing fishers to hire vehicles to try selling fish to households on the road, as the fishing complexes in Vieux Fort, Dennery and Castries had been reduced to inactivity and fishers were left owed debts by the government that remain unpaid.
"Fishers around the island were awaiting a change of government because they continue to pay heavy taxes on each gallon of gas, from which they benefited by way of various rebates and concessions under the SLP," Jn Baptiste said. The Castries fishing complex has been privatized and fishermen in the capital are as distressed as their colleagues in the south and east of the island.
Support for the agricultural community has been horrendous and made worse during the COVID-19 crisis, to produce local foods and to ensure people eat better.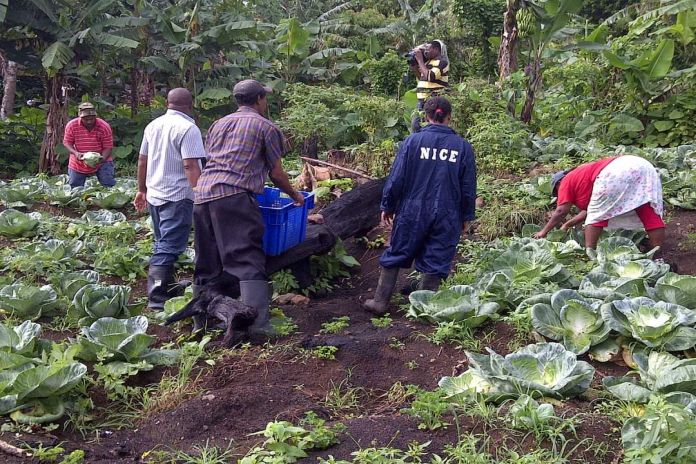 Jn Baptiste who is also the chairman of the SLP said " An SLP government would have provided $12.8 million towards agriculture and $2.2 million in fuel subsidies for fishers as direct support during this COVID-19 period by using the approximately $75 million from the International Monetary Fund (IMF) income support and economic stabilisation loan, to engage local farmers to feed the nation and reduce its food import bill."
Meanwhile, Saint Lucia's minister for agriculture, Joseph, "decision against making available $1,500 to farmers in cash and instead to give them agricultural products in kind, was because 'as you know, they have a problem handling money,'" – the islands of Grenada, St Vincent and the Grenadines, Antigua and Barbuda; and Dominica, developed a methodology of humanity and agricultural economics.
Grenada
The government of Grenada increased farm labor support to immediately boost agricultural production islandwide. The government is also considering the support for farmers and fish exporters who have recently been affected as a result of international travel restrictions.
The ministry of agriculture and lands in collaboration with the Grenada Cooperative Nutmeg Association (GCNA) and the Caribbean Agricultural Research and Development Institute (CARDI) recommend grafting as an alternative propagation method for the increase in nutmeg productivity.
Ministry of agriculture and lands late last year discussed the maximisation of the link between tourism and agriculture through an initiative of the Technical Centre for Agricultural and Rural Cooperation (CTA), in consideration of an agro-tourism policy.
St Vincent and the Grenadines
The government COVID-19 response provided direct support in the areas of farming, animal husbandry, fishing (additional monies for Farmers' Support Company; free seeds at AIW; subsidised inputs; provision of fishing boats and farm animals on generous terms): EC$9 million. Support for the arrowroot industry: EC$3 million.
Antigua and Barbuda
Prime minister Gaston Browne continues to encourage farmers to boost food security, reduce the food import bill and $18 million in produce. A long-term land lease programme for large-scale farmers continues.
"The minister of agriculture is determined to supplement the current population of farmers by attracting youthful and entrepreneurial men and women to the agricultural sector; the offer of training and the introduction of newer techniques that will modernize farming, will act as a magnet to draw those who would wish to join the noble profession of farming. Antigua and Barbuda has become self-sufficient in poultry egg production in 2019, … converting un-used agricultural land into productive fields of food." ~ Throne Speech 2020.
Dominica
Prime minister Roosevelt Skerrit budget address for the 2020/2021 fiscal year – The road to Dynamic Dominica: Fostering economic resilience – prioritized farmers as follows:
"The objective of this government is to continue to implement policies which will result in a sustainable agriculture system, that will guarantee food security, rural livelihoods, economic development and growth. The $67.0 million, emergency agricultural livelihoods and climate resilience project, is currently being implemented. The Climate Change for Fisheries (CC4FISH) project under the Food and Agricultural Organisation (FAO) began in January this year. It aims to build resilience within the fisheries sector. The project is valued at $440,000 and entails training and tooling of fisherfolk, to maintain sustainable livelihoods.
"Meanwhile, the government is exploring the development of a platform for the use of blockchain-based parametric insurance, as a resilience option for households, small businesses and farmers. It will be a "microinsurance" product and will be designed so that the premiums are highly affordable by the more vulnerable in our society."