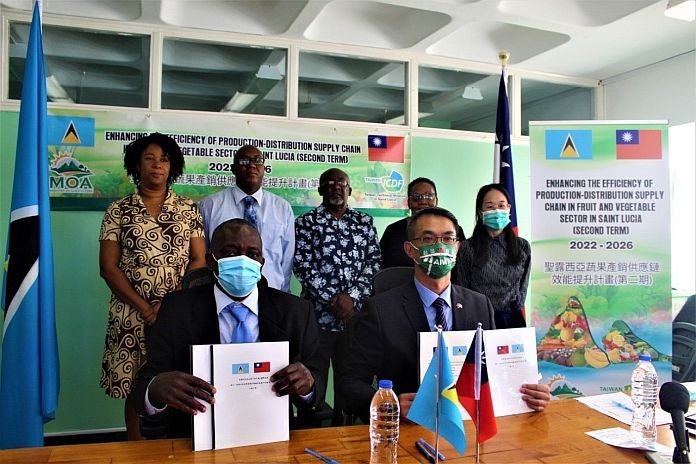 By Caribbean News Global contributor
CASTRIES, St Lucia – The ministry of agriculture, fisheries, food security and rural development; Taiwan Embassy in Saint Lucia, supported by Taiwan Technical Mission, signed the agreement to commence phase two of the Enhancement of Efficiency in the Production-Distribution Supply Chain of the Fruit and Vegetable Sector Project more commonly known as the Seven Crops Project.
Last October, building on a closer relationship with the community and consumers at large, agriculture leaders in partnership with the Taiwanese Embassy initiated a series of events to build interest in locally-produced foods. This initiative formed part of the import substitution project to focus efforts on increased production of seven crops that will assist the ministry of agriculture's strategy to reduce the national food import bill.
"Phase two of the joint initiative by the ministry of agriculture and the Taiwan Technical Mission will see an expansion of crops other than the initial seven crops chosen," said the ministry of agriculture, in a press release on January 11, 2022.
Minister for agriculture, fisheries, food security and rural development, Alfred Prospere, expressed gratitude to the government and people of Taiwan for their ongoing support in developing Saint Lucia's agriculture sector. He also explained that while phase two of the project will allow for continued production assistance to stakeholders and farmers, the project's primary focus will be on market access and marketing.
Ambassador of the Republic of China Taiwan to Saint Lucia, H.E. Peter Chia-yen Chen pledged Taiwan's support to continue working with the people of Saint Lucia, towards the growth and development of the agriculture sector.
The signed documents form part of the action plan on implementing the project for enhancing the efficiency of the production-distribution supply chain in the fruit and vegetable sector in Saint Lucia, to strengthen food security and to provide better response to climate change.