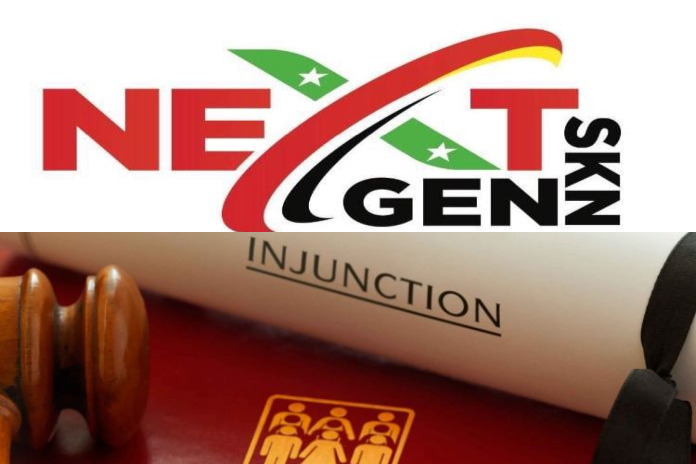 By Caribbean News Global contributor
BASSETERRE, St Kitts – The NextGen SKN – St Kitts and Nevis Labour Party (SKNLP) constitutional claim filed in the High Court of St Kitts and Nevis seeking an injunction against the government of St Kitts and Nevis and the ZIZ Broadcasting Corporation for infringement of the rights and liberties of the St Kitts-Nevis Labour Party, its candidates, and supporters, and the people of St Kitts and Nevis in general, will be held in the Eastern Caribbean Supreme Court at 10:00 am today, Friday, May 29, 2020.
On Wednesday, May 27, 2020, the St Kitts Nevis Labour Party (SKNLP) through its representatives Konris Maynard, Marcella Liburd, and Dr Denzil Llewellyn Douglas served the attorney-general and ZIZ Broadcasting Corporation.
Legal Counsel for SKNLP, Sylvester Anthony, explained that it is an injunction asserting that the State of Emergency should end because it is being used in a manner that is discriminatory.
The NextGen SKN – SKNLP said it looks forward to the hearing later today and is confident it can prove that the government is using COVID-19 to give themselves an unfair and illegal advantage to suppress the opposition.  
St Kitts – Nevis citizens call for an end to 'State of Emergency': The playing field is not level
Meanwhile, former prime minister and political leader of SKNLP, Dr Denzil Douglas is expected to report to the commissioner of police, an unprovoked attack on himself and his NextGen SKN candidate, Leon Natta-Nelson, by outgoing prime minister Dr Timothy Harris which occurred on  Wednesday.
Dr Douglas described that "this unfortunate incident took place in front of the nomination centre, the Tabernacle Police Station. I will be reporting this to the commissioner of police because no one is above the law in our beloved Federation. In fact, I expect law enforcement officials to safeguard the peace and security of every citizen and resident including NextGen SKN candidate Nelson and myself. The police must ensure that justice is served to the fullest extent of the law," said Dr Douglas.
Dr Douglas, accompanied by scores of his party supporters, indicated that he had gone to Tabernacle to stand with Natta-Nelson.
"While they celebrating the nomination of Natta-Nelson, as seen from several videos, Dr Harris led his group several feet towards the labour party group which was stationary. Dr Harris charged at both Dr Douglas and Natta-Nelson violently pointing his hands in their faces, speaking nasty, threatening words and behaving in a manner unbecoming of the holder of the office of the prime minister of St Kitts and Nevis."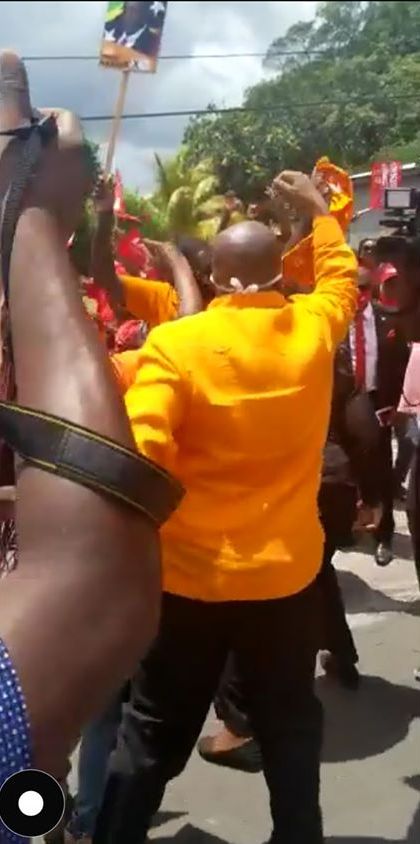 Supporters annoyed by this encounter, registered there grievance.
One lady said that she felt the police should have intervened and stopped Dr Harris from walking towards Dr Douglas and Natta-Nelson and taking the campaign to the lowest level.
Another young voter shared that Dr Douglas showed the mettle of his statesmanship by remaining composed.
"Timothy isn't prime minister material", a senior citizen said. "You can't expect to act like that with [his] undershirt out of his trousers, mouth full of dirty chatter, and expect to inspire people to vote for him."
In a comment on social media, Dr Douglas wrote: "I am a changed person. Thank God for the change … let's remain vigilant at all times, as the count-down continues to election day, June 5. Let us change the change, I am ready," said Dr Douglas.