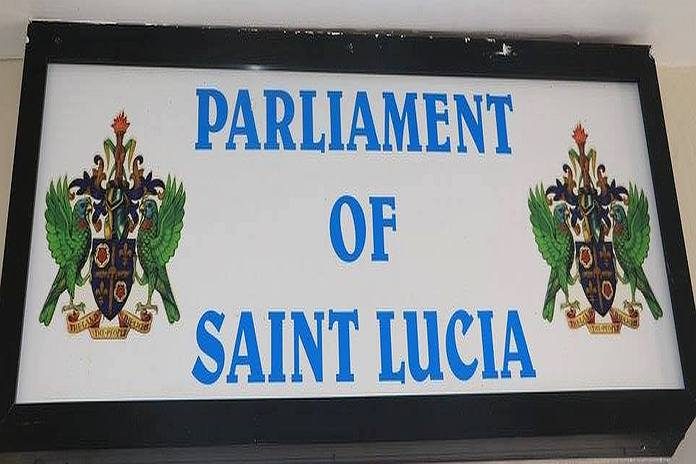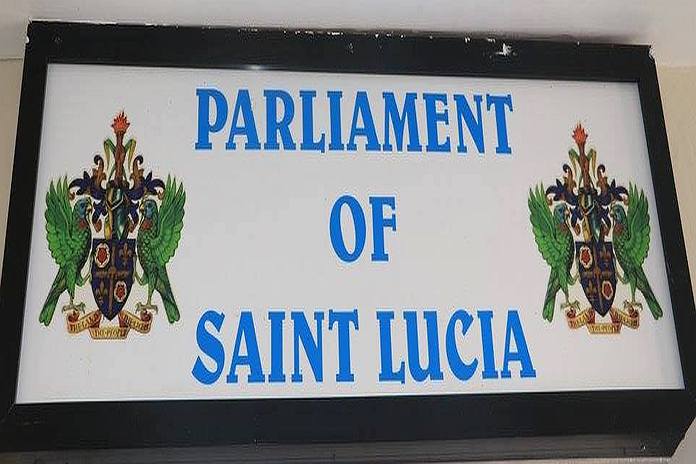 Borrow from the European Investment Bank the sum of EUR 13,500,000.00 to finance emergency operating expenses in the health sector related to the COVID-19 virus pandemic
Pajoah letter scandal
Compensation for land acquisition at Anse Jambette Cove ..$EC 9.4 million
Government of Saint Lucia shall pay EC $3 million in cash and the balance of EC $ 3.4 million through the issuance of bonds
By Caribbean News Global

TORONTO, Canada – Following two irregular postponements of the much-publicized and questionable scheduled sittings of the House of Assembly [June 8, 15,22, 29] with no explanation to justify such recurrence, a June 22 sitting seems plausible with the issuance of "Resolution of parliament to borrow for capital or current expenditure – operating expenses in the health sector related to the COVID-19 virus pandemic."
According to a copy of the statutory instrument "… the minister of finance considers it necessary to borrow from the European Investment Bank the sum of EUR 13,500,000.00 to finance emergency operating expenses in the health sector related to the COVID-19 virus pandemic … the loan is repayable over a period of twenty years from the date of first disbursement of the loan inclusive of a four year grace period; …"
Bills for consideration
In keeping with the constitution of Saint Lucia, parliament shall be dissolved on July 12, if not before and general election thereafter, not exceed 90 days, October 12, 2021.
June 6, marked the five-year term of the Allen Chastanet, United Workers Party (UWP) securing victory at the polls. But, albeit the announcement of an election date and infraction of civil liberty in a police state, comes the very conspicuous – COVID-19 protocols for campaigning.
Meanwhile, the government of Saint Lucia has taken the liberty to extend its term in office five- years +plus the economic and social polarity of the county continues to decline rapidly.
Revelations of corruption is a weekly event including responses to the latest Pajoah letter scandal June 10, 2021, on the Talk Show "Can I Help You" and now Cabinet Conclusion No. 281 (a) of 2021 dated April 19, 2021: Compensation for land acquisition at Anse Jambette Cove, … "be vested in Invest Saint Lucia for the purpose of facilitating touristic and other economic investment opportunities." [ …]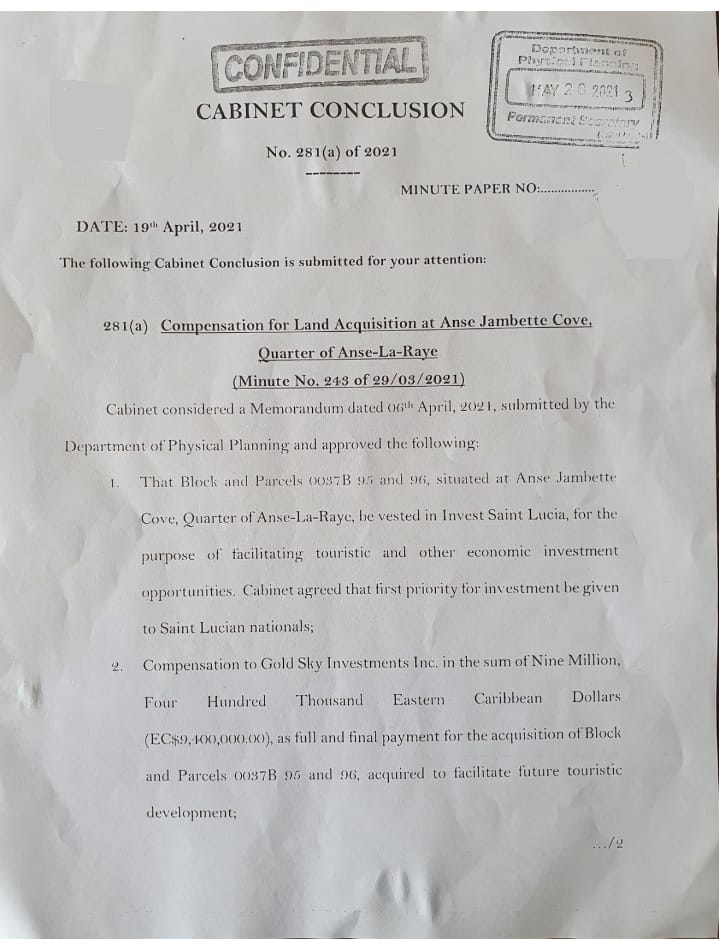 The land register notes approximately 1.92 hectares, and according to Cabinet Conclusion No. 281 the land acquisition is in the amount of EC$ 9.4 million.
Payment for the acquisition as prescribed is inclusive of :
(A) Invest St Lucia shall pay EC $ 3 million in consideration for receipt of the vested property.
(B) Government of Saint Lucia shall pay EC $3 million in cash and the balance of EC $ 3.4 million through the issuance of bonds. […]
Page 2, item No 4 is equally interesting, and as noted: " The attorney general recused himself from deliberations on this matter." Note the stamp on the right.
It has been stated that "a new government following general elections must address,  financial impropriety, corruption, conflict of interest, and maladministration."
As revelations unfold it is also necessary to prioritise an audit of every ministry of government and statutory body, etc., before a new government begins pursuing its governance agenda.