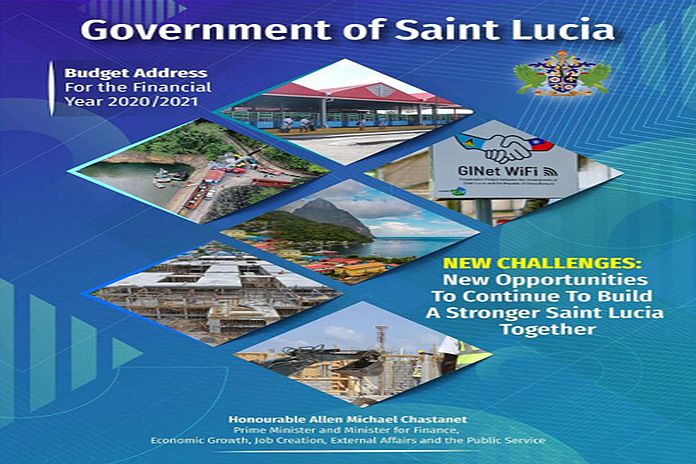 By Caribbean News Global

TORONTO, Canada — Having listened and upon review of the theme presentation, "New challenges, new opportunities for building a stronger Saint Lucia, Together" – budget address for the financial year 2020/2021 presented by the prime minister and minister for finance Allen Chastanet, it does not surprise me of the wonderland of vacuous relics to exposed more mathematically and morally challenged; and linguistic deficiency, even when assisted in the composition of the address by two former technocrats (permanent secretaries) and a friendly editor.
Besides parliamentary theatre, I will not image the wishes of former prime minister, Kenny Anthony as expressed in his parliamentary contribution to "tango" with Sarah Flood Beaubrun, the minister with responsibility for external affairs all be it "on the table", however, I will illustrate the incredulous non-propagation or should you prefer, increasingly non-resilient "Building a New Saint Lucia" in a COVID-19 era.

I draw your attention to 'Outlook for Latin America and the Caribbean: An intensifying pandemic': "Latin America and the Caribbean have become the new COVID-19 global epicenter. The human cost has been tragic, with over 100,000 lives lost. The economic toll has also been steep. The World Economic Outlook Update now estimates the region to shrink by 9.4 percent in 2020, four percentage points worse than the April projection and the worst recession on record. A mild recovery to +3.7 percent is projected in 2021.
The prime ministers budget address rehearsed, "This policy statement for the 2020-21 national budget is, to my mind, one of the most important in the history of Saint Lucia … because every budget must recognize and relate to conditions in the country at a particular point in time. This year, this recognition assumes extreme importance given the historic events that we have all experienced since the month of February, as a result of the novel coronavirus [COVID-19]. This virus has been rampaging the entire world bringing sickness, death and economic destruction, that none of us have experienced in our lifetime."
And here comes one incredulous non-propagation," it is the effect of this global crisis that has convinced us to adopt as the theme for this presentation, "New challenges, new opportunities for building a stronger Saint Lucia, Together". This theme has resonated with the overall agenda of this government since coming to office in 2016. It was our view then that Saint Lucia was in desperate need of a major transformation and this is of even greater importance now, given the setbacks that we have suffered as a result of COVID-19."
The budget address rehashed the image baseline scenario of a country that this government said it inherited in 2016 " in decline if not in crisis".
"Whilst the economy grew at an average rate of 0.94 percent between 2007 and 2015, the debt-to-GDP ratio was above the prudential guidelines of 60 percent and unemployment was unacceptably high at over 24 percent, with youth unemployment at 41 percent. Saint Lucia was performing at a level that was way below its potential and if we were to address the challenges confronting us, we would have had to do much better across all the socio-economic indicators.
"On being elected to office in 2016, it was clear that the best policy response to the challenges facing the country, was to take actions to cause the economy of Saint Lucia to grow at a faster rate. This required a radical change and review of delivery systems, institutional and governance frameworks and a new approach to the economy. In other words, we had "to build a new Saint Lucia".
According to the budget address: "As part of this re-set, reform and rebuild process … One strategy ensures that the main users of an asset contribute more to its maintenance and upkeep. This approach has helped minimize the impact on our debt levels while ensuring sustainability. "
Reference was made of the Airport Development Charge (ADC) and the "resources to negotiate with financial institutions like the Taiwan Ex-Im Bank, to secure the funding to upgrade the Hewanorra International Airport." Perhaps we can discuss the merits of the loan, global economic forecast and COVID-19 against reports that "have instead witnessed successive years of record arrivals." Meanwhile "the economies in the Caribbean and Eastern Caribbean Currency Union (ECCU) region are reeling from the effects, with limited fiscal space to respond to the crisis, given their high levels of indebtedness and heavy dependence on tourism."
Notable, there no mention in this address that parliament authorized the minister for finance to borrow the sum of SDR$21,400.000.00 or US$29,000,000.00 by way of a Rapid Credit Facility (RCF) loan from the International Monetary Fund (IMF) for the purpose of capital and recurrent expenditure.
However, the budget address outlined, "When the coronavirus broke out, our country was on the cusp of another comeback and had just achieved positive growth of 1.7 percent in 2019. We had recorded three consecutive years of positive growth since our return to office. Unemployment had fallen from over 24 percent to 16.8 percent over four years; our debt to GDP ratio had also fallen to below the prudential 60 percent target set by the Eastern Caribbean Central Bank to be achieved by 2030; tourism arrivals had hit a record high of approximately 1.3 million, supermarket purchases of our agricultural products were on the increase and there was renewed interest in the manufacturing sector, recording its highest growth of 6.1 percent over the last six years."
For a substantive review of Saint Lucia's public debt – The Social and Economic Review 2019 affirms the current level of public debt increased by 3.4 percent in 2018; registered at 3.4167 billion. The trajectory of that debt over the last eleven years can be reflected vis a vis the GDP.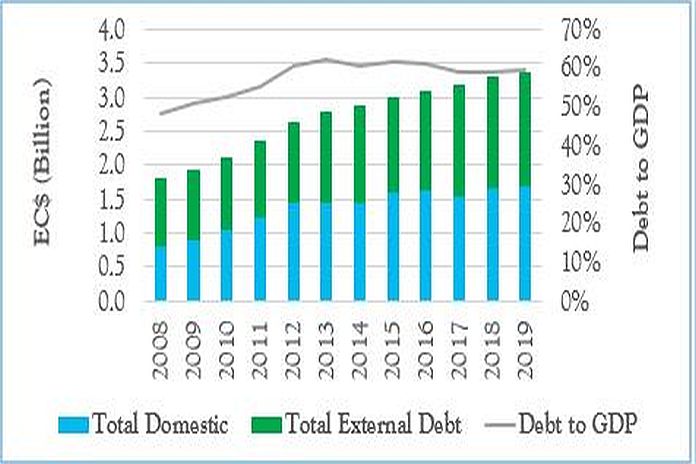 The extent of Saint Lucia's' debt is itemized in the section of the estimates which deals with the public debt inclusive of (i) internal and (ii) external. This debt arises from loans, bonds and interest payments, and from local financial institutions in the case of domestic debt, international organisations and government in the case of external debt.
Illustrating more incredulous non-propagation, the budget address attempted to compare Saint Lucia's debt and economic lacklustre performance, albeit attempt by the budget assistant forte in public policy management to cushion ineptitude, illustrates," while the United States experienced growth for the 10th consecutive year, the rate of growth last year was lower than in 2018. In Canada, another of our main tourism markets, growth also slowed to 1.6 percent in 2019, down from 1.9 percent the year before. High levels of household debt and reduced productivity levels have been cited as the reasons for that lower economic performance. In the United Kingdom, notwithstanding uncertainty over Brexit, growth remained constant at 1.4 percent, while in the Euro Zone there was also a slight decline in the growth to 1.2 percent. China also registered a slowing down of growth."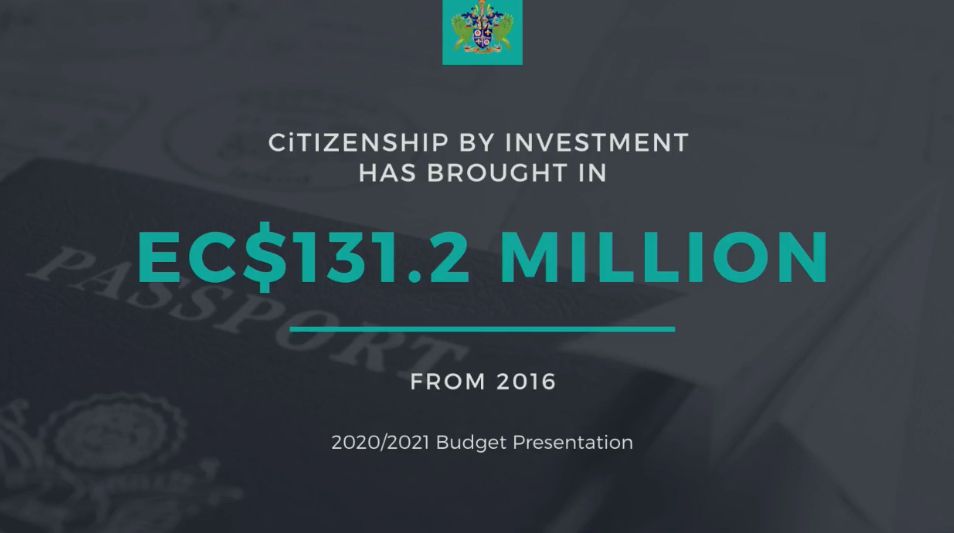 To crown this off, a comparison was not tabled per economics of scale, population, trade, etc, however, disclosed "the CIP has contributed EC$131.2 million to this country. At a time of dwindling sources of grant funding and an ever-increasing demand for government services, the government will leverage the demand for our passports, as a means of attracting foreign investment into Saint Lucia. This allows for questioning – "where de money gone" with nothing to show for it, that benefited the public good, expect expectant investigation upon a new labour government assuming office.
In the context of St Lucia's 2020/21 budget estimates a masked economy,  inclusive of St Lucia's economy and the recent IMF report: Part 3 such is the irony that even alongside the rebasing exercise (that has only reduced the ratio of debt but the volume remains constant) in 2016 and 2020 that accounts for 59 percent GDP improvements, in most sectors, the government has underperformed. Ratio's increased, the prime deficit is worse, revenue is down, transfers have increased, growth has declined, etc.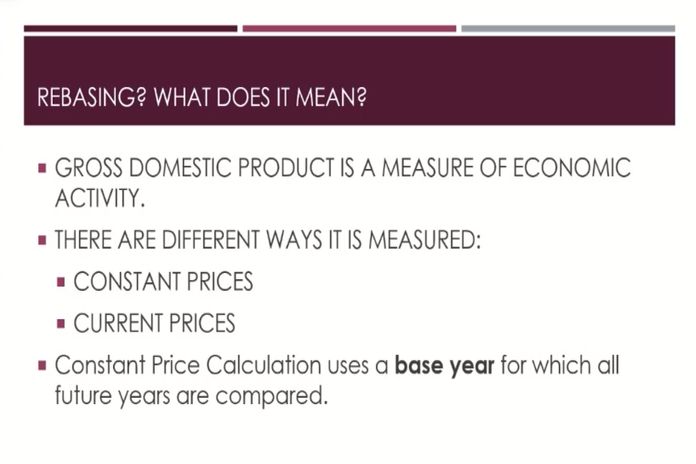 Therefore, on matters of fiscal policies and strategy to finance the budget – with components of fiscal strategy, debt management strategy, financing the budget that "requires that we: (1) continue to grow our economy (which helps to increase our tax revenue) and (2) rationalize our expenditure so as to ensure as far as possible, the optimal use of tax revenue as well as debt resources," is contingent on being forthright on legislation, tax reforms and revenues measures "… under section 9 of the Public Health Act, Cap 11.01, the minister responsible for health makes these regulations" that are now deemed illegal to do without a licence: i.e. – Charcoal making, resonates – Is St Lucia in the hands of the IMF?
In part 2 CNG will examine revenue projections, current expenditure results, current deficit and look ahead @GlobalCaribbean – final thought on St Lucia's PM budget address: A wonderland of vacuous relics.