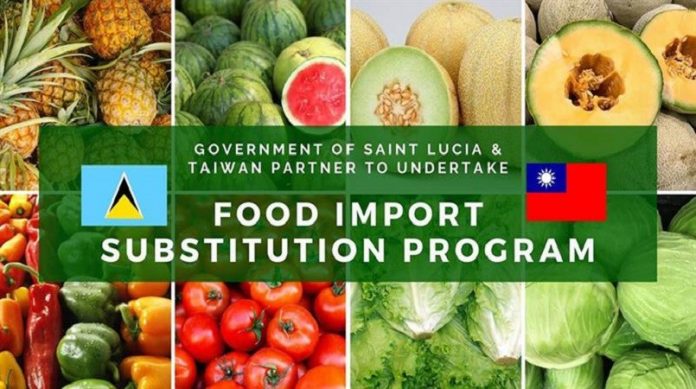 By Caribbean News Global

TORONTO, Canada – The project entitled – the Enhancement of the Efficiency of Production – Distribution Supply Chain in Fruit and Vegetable Sector (Second Term) from January 1, 2022, to December 31, 2026, to strengthen Saint Lucia's agricultural capacity building, is sponsored by Taiwan International Cooperation and Development Fund (Taiwan ICDF).
The five-year programme, into its second term, is expected to promote increased production and consumption of local produce while reducing the food import bill was officially launched on Friday, February 11, 2022.
Taiwanese embassy supports food import substitution project in St Lucia
The official launch was held at the Finance Administration Centre at Pointe Seraphine, Castries. Officials in attendance included H.E. Peter Chen, Taiwan's Ambassador to Saint Lucia; Alfred Prospere, minister for agriculture, fisheries, food security and rural development and other government representatives. "Having been satisfied with the performance of the first phase of the project, an agreement for expanding the second phase was signed on January 7, 2022, between Taiwan's Ambassador to Saint Lucia, H.E. Peter Chen, and minister for agriculture, Prospere."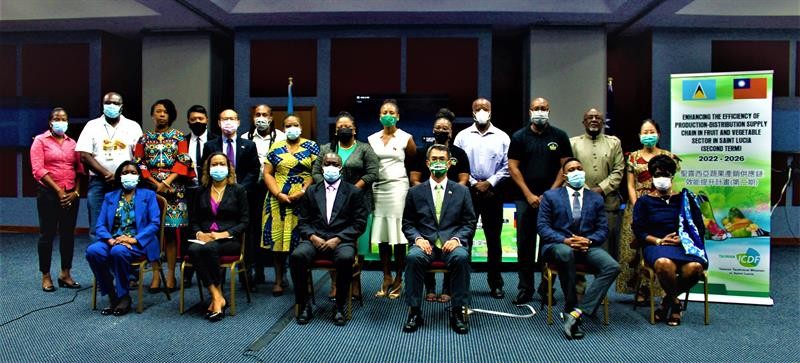 The second term major programme
"Under the project, it is hoped that there will be a 25 percent increase in the local purchase of fruits and vegetables. The ten focal crops selected under the programme are papaya, broccoli, cucumber, soursop, pumpkin, cauliflower, eggplant, corn, dragon fruit, and sugar apple.
The programme will focus on key areas, namely (1) Diversified Production (focal crop, and irrigation techniques), (2) High-Efficiency Production Model (small machinery, and composting), and (3) Market System Strengthening (upgrade iFarm, strengthen St Lucia Marketing Board, and agro-processing).
In 2018, the Taiwan Technical Mission and the ministry of agriculture launched the first phase of the project, commonly known as the "Seven Crops Project". Crops selected included cantaloupes, honeydew, lettuce, tomatoes, pineapples, cabbages, bell peppers, and watermelon.
The aim of the initial phase of the project was to increase the production and consumption of selected crops, thereby reducing the island's high food import bill. Under the project, there was a reduction of some of the selected crops in the first phase.
Positive spinoffs of the project to date include:
Remodeling of the pack-house at Odsan which is now operating under HAACP standards.
Establishment of contractual arrangements between local farmers and the St Lucia Marketing Board.
Introduction of farmers to more climate-resilient varieties of fruits and vegetables.
Provision of training programmes for farmers and extension officers to build capacity.
Assisting farmers with subsidized agricultural inputs.
Organizing Farmers' Markets across Saint Lucia to promote and increase sale of local produce.
Introduction of new technology, including hoop greenhouses, and establishment of weather stations to help farmers improve growing conditions, prevent diseases, and increase crop yield.
Development of an iFarm app for easier data collection and allowing farmers and buyers to market and sell their produce.
"Other collaborators on the Seven Crops Project include the St Lucia Marketing Board (SLMB), Inter-American Institute for Cooperation on Agriculture (IICA), and Caribbean Agricultural Research and Development Institute (CARDI)."