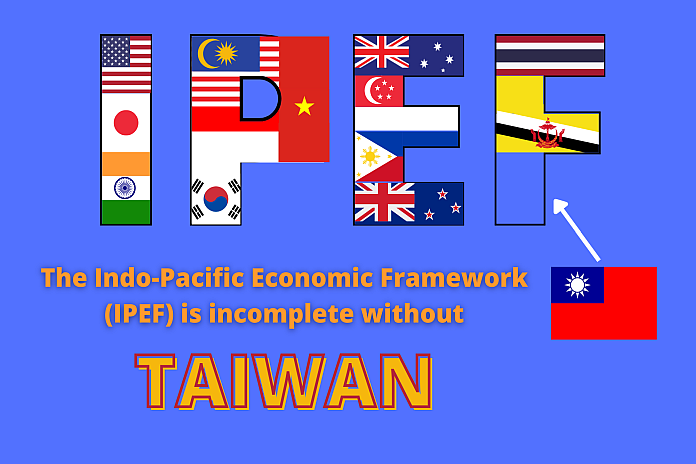 By Caribbean News Global

TORONTO, Canada –  In Part 1, the significance of Taiwan, TSMC – US and the global supply chain underwrites the Indo-Pacific Economic Framework (IPEF) and why Taiwan's participation in IPEF is of utmost importance. Further components of this relate to the economic and security parameters Why Taiwan should be in the IPEF.
Recently, G7 foreign ministers in a statement on preserving peace and stability across the Taiwan Strait, said:
"We are concerned by recent and announced threatening actions by the People's Republic of China (PRC), particularly live-fire exercises and economic coercion, which risk unnecessary escalation. There is no justification to use a visit as pretext for aggressive military activity in the Taiwan Strait. It is normal and routine for legislators from our countries to travel internationally. The PRC's escalatory response risks increasing tensions and destabilizing the region."
Taiwan and TSMC have taken bold initiatives to prop up domestic and international semiconductor manufacturing and the chipmaking industry, that essential products and services now rely on.
The concern is national security and further disruption in the global supply chain, to which, the multifaceted approach by Taiwan in the chipmaking industry has splurged a new strategic dimension. This global strategy has fortified Taiwan as a leader in chip design, operating and producing the global share of semiconductors and the development of appropriate in-demand STEM skills.
In this current environment, cost-efficiency, the availability of a high-skilled semiconductor workforce and policymakers with the requisite talent to meet this dependability is paramount.
Taiwan is well positioned – and end to end with the US, this vast new splurge in the chipmaking industry, makes it exceedingly vital to Taiwan TSMC – US global supply chain that rivals China.
Chips aside, global supply chain issues, US – Taiwan trade initiative, national security, technology, innovation and the Indo-Pacific Economic Framework (IPEF), should be uncontroversial to a reorganization of the focus that IPEF is incomplete without Taiwan.
Moving from the Covid-19 pandemic, Russia's invasion of Ukraine and inflation fears, grave consequences must be averted. Restricting global trade routes is tantamount to suicide and a disadvantage to China as the world's largest exporting nation.
The China – Taiwan crisis of 1995-96, should be averted, albeit 'Milley: China wants capability to take Taiwan by 2027, sees no near-term intent to invade'.
The resurgence of China's aggression in the Taiwan Straits cannot be allowed to further intensify disruptions in global supply chains, goods and services in Asian factory hubs that will filter globally. And even with Beijing's plans to increase its portion of homemade chips to 70 percent by 2025, given its reliance on Taiwan's semiconductors, the illustration of Russia's blockade of Ukraine's Black Sea ports has similar output to ripple across the globe, threatening manufacturing, famine and inflation fears.
Taiwan is an independent and democratic country. A beacon of democracy and leadership that has allowed Taiwan to become a vibrant economy and competitive globally.
In much the same as the 'The Chips and Science Act' intended, to impact investment plans and spur innovation and development, the US inflation Reduction Act is intended to tackle inflation by lowering the deficit and lowering costs for regular families, says president Joe Biden in a statement:
"This bill also makes the largest investment ever in combatting the existential crisis of climate change. It addresses the climate crisis and strengthens our energy security, creating jobs manufacturing solar panels, wind turbines, and electric vehicles in America with American workers. It lowers families' energy costs by hundreds of dollars each year." 
Undisrupted passage through the Taiwan Strait is critical to commerce – to keep on track with semiconductors manufacturing and distribution. A crucial component that forms part of the centrepiece of Taiwan's economic agenda.
Taiwan TSMC – US is in tune – ramping up investments and strategic placements of chip manufacturing plants, ahead of China's chip ambitions.
In the meantime, the Kaohsiung city government in a groundbreaking ceremony on August 7, at the Nanzih Technology Industrial Park (楠梓科技產業園區) in Kaohsiung, TSMC (台積電) is on schedule to construct a 12-inch wafer plant, 30 hectares of the first phase of development reserved for TSMC's planned factory.
The park will be connected with Tainan Science Park (臺南科學園區), Kaohsiung Luzhu Science Park (高雄路竹科學園區) and Kaohsiung Ciaotou Science Park (高雄橋頭科學園區) to form a semiconductor corridor in southern Taiwan, allowing the nation's technology industry to develop more vigorously," reports Taipei Times.
TSMC said previously that the plant is to use the advanced 7-nanometer process and the mature 28-nanometer process to produce chips, with production scheduled to begin in 2024. This is expected to create 1,500 new jobs and has an annual output value of approximately NT$157.6 billion (US$5.25 billion).
Moreover, with the foundry market fiercely competitive and Taiwan's chipmakers working to develop digital TV and WiFi network chips; TSMC's dominant position in the contract chipmaking segment is expected to launch its 3nm chips by the end of this year. Production is expected to take place in Tainan and Hsinchu.
In reality, it is imperative to maintain access to Taiwan's market Taiwan's representation, US and global support focus on the framework and Taiwan's participation within the core of IPEF ideological, economic, innovation, national security and trade deals, with a futuristic outlook.
On several dimensions, a strong US – Taiwan relationship has never been more desirable. And considering, if as prescribed, IPEF is direct at like-minded partners, based on shared values, to establish rules and norms that advance mutual interests, then it is purely conclusive that IPEF is incomplete without Taiwan.
Unblemished evidence suggests the important role that Taiwan TSMC plays globally, manifested by ongoing threats from China. Above all, and in tandem with US – Taiwan existing strategic symmetric, far exceeds China's global semiconductor invention.
A statement by ambassador Katherine Tai following the White House Chips and Science Act signing ceremony, said:
"The Chips and Science Act is a major step forward for the Biden administration's effort to invest in cutting edge technologies and create good-paying jobs. It will help build a resilient economy that can withstand future shocks, lower prices, and deliver goods to consumers without significant disruptions by reintegrating American manufacturing and diversifying our supply relationships.
 
"We will build on this historic accomplishment and continue to develop trade policies that create smart and durable supply chains and increase our global competitiveness through the development and deployment of critical 21st-century technology."
Related: Taiwan TSMC – US global supply chain rivals China: Part 1