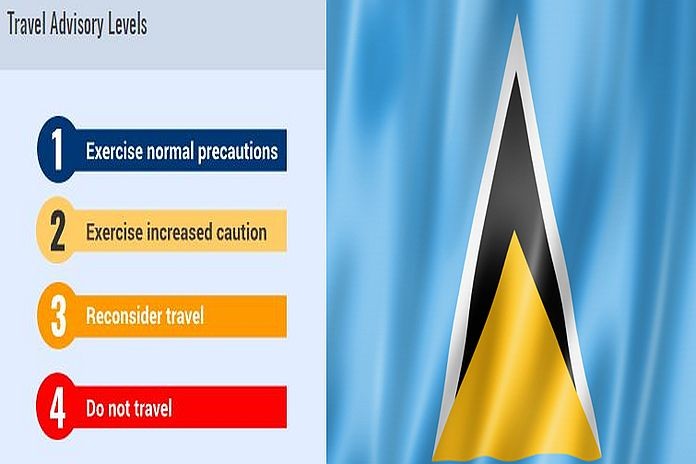 By Caribbean News Global

WASHINGTON, USA – US Department of State has issued a Travel Advisory Level 4 – Do Not Travel for Saint Lucia due to COVID-19, published on the US Embassy in Barbados, the Eastern Caribbean, and the OECS website dated January 18, 2022.
A previous advisory, was on August 6, 2020, from Centers for Disease Control and Prevention (CDC) recommends travellers to avoid all nonessential international travel to Saint Lucia. CDC travellers' health reads, "Warning – Level 3, avoid Nonessential Travel."
US Department of State, Level 4: Do not travel, says "read the Department of State's COVID-19 page before you plan any international travel," explained. "The Centers for Disease Control and Prevention (CDC) has issued a Level 4 Travel Health Notice for Saint Lucia due to COVID-19, indicating a very high level of COVID-19 in the country. Your risk of contracting COVID-19 and developing severe symptoms may be lower if you are fully vaccinated with an FDA authorized vaccine. Before planning any international travel, please review the CDC's specific recommendations for vaccinated and unvaccinated travelers."
The advisory precedes the US donation of a 40-bed field hospital and three utility vehicles to the government of Saint Lucia during a handover ceremony at the St Lucia Fire Service Training Center in Vieux Fort, January 20, 2022.
The donation to the government of Saint Lucia seemingly comes at an opportune time, if according to the Ministry of Health (MOH), "as we continue to manage this current wave" […] and "although Saint Lucia has not received confirmation of the presence of the Omicron variant on island, the unprecedented increase in confirmed cases of COVID-19 suggests that it is present."
The advent of variants have shaken many and perhaps upended early hopes for returning to 'normalcy'. And, in many ways, several are just as flabbergasted, if the Omicron variant is on the island, [undetected] and whether it has peaked and/or expecting a sharp decline. 
This development and the need for good advice is instructive, in a process that appears duplicitous, structurally narrow-mindedness in policymaking, coupled with political blindness is all ahead.
Friday, January 21, 2022, the MOH reported the continuance of elevated COVID-19 cases: 439 new cases, processed on Thursday, January 20, 2022, from a total of 968 samples of which 888 samples. To date, the total number of COVID-19 deaths in the country is 247 and the total number of COVID-19 related deaths is 72."
Saturday, January 22, 2022, the MOH reported: "283 new cases of COVID-19, processed the previous day from 764 samples, collected on January 20, 2022, and January 21, 2022.
Sunday, January 23, 2022, the MOH reported: "212 cases from a total of 550 samples, collected on January 21, 2022, and January 22, 2022. This number of positive cases makes up 38.56 percent of all the samples processed on that date. These new cases bring the total number of cases diagnosed in the country to date to 19, 680. The number of active cases in the country is 4,233. Currently, there are 53 positive cases of COVID-19 admitted at the respiratory hospital, of which one of them is in critical care and five of them are severely ill. To date, a total of 50, 908 individuals have been fully vaccinated. Another 6, 029 are partially vaccinated and 5, 892 have received their booster shot."
[Collected and processed samples are well below the ability to test up to 2,000 persons in one day.]
While the US donation of a 40-bed field hospital and three utility vehicles may supplement operations at the so-called St Jude hospital, it is also evident that perhaps pandemic preparation is being made for the increasingly lonely road of the unvaccinated and others in the comatose health system.
In this COVID-19 public health emergency, the proviso is a requisite for containment driven by and managed by public health experts, however, the politics of finance and capitalist enrichment has superseded erstwhile parodies – that life matters.
The assumption of the MOH communications strategy and approach is such that, "the commencement of the current fifth wave has been approximated to be around December 16, 2021" and not knowing scientifically if Omicron is on the island, suggests that an "unknown virus/agent" has dramatically redefined the COVID-19 surge in Saint Lucia.
The new reality raises hard questions about what happened and what's next? Where, and to whom has the advice, experience and expertise deferred?
Granted that there are no hard guidelines, a lack of enforcement, guarantees and mandates, the concern is when will Saint Lucia return to not wearing masks, a return to school, public and private offices, public events and a gradual opening of the island 'suffering from COVID fatigue.'
Will the island fall victim to economic development. The inability to spend on national security and health care. Meantime the doctrine of appeasement is waning, the workforce is shrinking together with national insurance contributions and inland revenue.
Meanwhile, Saint Lucia is breaking COVID-19 records the observance of the 43rd Anniversary of Independence under the theme "Douvan Ansanm-Celebrating Our people", February 22, 2022, is fast approaching, including Saint Lucia Carnival 2022 dubbed 'The Vaxxed Mas'."
And while it may be necessary to consider life in the aftermath of the patchwork of experiments and to get a sense of what's happening now, there certainly isn't a single consistent behaviour.
COVID-19, Delta, Omicron and "unknown virus/agent" causing the surge in Saint Lucia indicates the island is not out of the woods yet. Or perhaps, it's possible the island is turning the corner in a long-running pandemic, points towards a recalibration in thinking about the virus and variants of concern, being treated at source are clearly observable factors.
During her remarks, US ambassador to Saint Lucia Linda Taglialatela said the donation of the field hospital was yet another demonstration of the United States' commitment to the health and well-being of partners in the hemisphere.
"Here in Saint Lucia, we're supporting vaccination efforts. We're strengthening the digital information systems to monitor vaccination coverage. And we're working with you to communicate that vaccines help prevent serious sickness and save lives," she explained. "This field hospital will support your rapid deployment of first responders and medical personnel to where they are needed most."
Conversely, the risks are still real, people are getting sick, people are dying, obviously causing huge problems. And now, are unsurprising subject to Level 4: Travel Advisory: Do not travel to Saint Lucia due to COVID-19.